What's the fastest path to growth for manufacturers and distributors
Between pandemic disruption and election chaos, it's hard to know what the future holds — but U.S. economists are forecasting a return to pre-pandemic GDP by Q2 2021, and growth rates around 25% by Q3.
When we take a wide lens view and compare the COVID-19 pandemic to previous disruptions — minor economic downturns, Ebola, SARS, true recessions — manufacturing in the U.S. has always bounced back stronger than before.
The goal is rapid recovery — but to achieve recovery manufacturers and distributors have to participate in the marketplace trends that will prepare them to come back faster, stronger, and better than before.
It's hard for SMEs in crisis mode to know where to start or where to find the money for tech upgrades — the alternative is to do nothing and wait for recovery. The problem with a "wait and see" plan is that you can't leverage what you don't have — automation, planning, inventory, and business processes that a robust, scalable enterprise resource planning (ERP) solution delivers.
Enterprise resource technology removes many of the obstacles that prevent small to mid-sized businesses from accelerating growth, like automation, scalability, e-commerce, and end-to-end visibility into workflows that streamline processes and save time and money.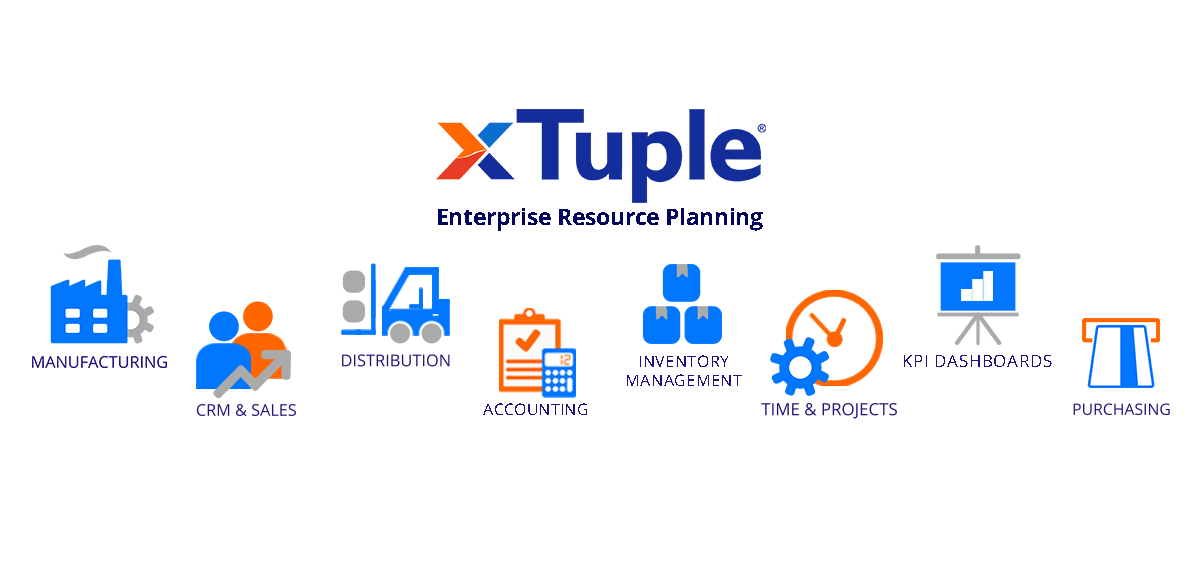 Turnkey solution
When it comes to price, capability, strategies, market share, and integrations, xTuple's simple, comprehensive ERP delivers exceptional functionality – better than other enterprise solutions that cost several times more and take months longer to achieve even remotely similar results.
Small business owners understand that it's essential to do more of what works, and less of what doesn't. But to gain that visibility, to understand what's going right and what makes more money for your business, you have to be able to see and compare each cost and project.
Time wasting error-prone processes can't deliver a turnkey solution to boost productivity and profitability or help you see your entire business.
A recent survey illustrated that 95% of xTuple customers improved key business processes post-onboarding by nearly 50%.   
xTuple's 90-day Go Live onboarding process, led by engineers and dedicated customer success experts, increases productivity, and reduces time and money spent on manual processes by up to 70%.
Created by manufacturers, for manufacturers
ERPs were created to help companies manage all areas of their business — xTuple ERP process solutions were designed to help manufacturers improve manufacturing performance — because we understand their unique challenges.
The xTuple leadership team has decades of experience when it comes to manufacturing — from purchasing raw materials, hiring people, creating processes to make, inventory, sell, and ship products — we know that your profitability depends on how efficiently you are able to complete these tasks.
To grow, small businesses need more materials, more people, and more efficient processes. It really doesn't matter if you make five or five thousand products each month, without clear visibility, manufacturers can lose sight of what matters…like lost inventory, lost customers, and lost time. This adds up to lost profits.
The right ERP solution for manufacturers delivers the ability to:
Maximize cash flow. Don't leave money on the shelf that's tied up in excess materials, supplies, or slow-moving finished goods
Hit delivery schedules — delight your customers with on-time deliveries, every time
Know where your cash is at all times, and how you can put it to work for you
Improve productivity performance
Increase profitability
From inventory management, lot and serial number track and trace, and tax management — xTuple understands what you do, and how you do it. We can help you do it better.
Check out our self-guided and custom demos, and see how xTuple can help you integrate, automate, and grow.