There are several different ways to successfully launch and scale a SaaS company. The two most common go-to-market strategies are sales-led growth (SLG) and, more recently, product-led growth (PLG). 
In a sales-led model, sales processes and teams are the primary drivers of revenue growth. Whereas, in a product-led model, the product itself is used to acquire, onboard, and retain new users. Each has its strengths and weaknesses, but neither is better or worse than the other. In fact, many B2B SaaS companies use a hybrid between the two to adapt to changing market conditions, and you can do the same.
Here's an example:
2020 was named the "Year of Product-led Growth" by Forbes. With remote work replacing the office, employees needed quick and easy access to software to stay connected. As a result, workplace collaboration tools like Zoom, Slack, and Dropbox all experienced record revenue numbers during this time. 
While a product-led growth model helped them quickly build a larger user base, deploying a sales-led motion allowed them to nurture and manage the key accounts that contributed the most to their annual revenue growth. For example, Zoom's annual revenue increased 325.81%.
All of this was made possible by deploying both product- and sales-led growth tactics (AKA a "hybrid model").
(Image Source: SaaStr 2021)
Why the Hybrid Model Is the Future of Saas
Many traditional sales-led (SLG) companies are introducing product-led tactics, experimenting with low friction, self-serve models to increase customer acquisition. On the other hand, PLG companies are introducing sales teams and processes to deal with being pulled upmarket as their existing customers grow. 
By taking a hybrid approach, you get the benefits of PLG—product virality, reduced CAC, and faster client activation—while using your sales teams to nurture relationships with enterprise customers. Here's what it looks like in practice.
Product-led companies use many different tactics to acquire, onboard, and retain new users, including:
Free trials 

On-demand training

Interactive guides

In-depth knowledge bases 

Community groups and user forums
While these resources make it easy for individual users to sign up and get started, they don't provide infinite support—especially if the product in question gets rolled out across an entire department or organization. Eventually, 1:1 support is needed. This is where the sales-led motion comes in. Sales reps can negotiate pricing and put together a custom plan for users/teams whose needs exceed a free trial or entry-level pricing plan. 
By offering support from the end-user to the enterprise level, a hybrid model allows companies to capture greater market share and retain users over longer periods of time.
There Aren't Many True Product-led Companies
If you observe the average sales headcount of early-stage product-led companies, you'll find that many have already laid the foundation of a hybrid model because (in most cases) a strong sales team is what ultimately allows them to scale and maintain their hold on the market.
In a study that analyzed the growth trends of 495 product-led companies, Peersignal found the percentage of sales headcounts at product-led companies increased along with total employee growth. In short, as product-led companies begin to scale, they lean further into a sales-assisted or hybrid model.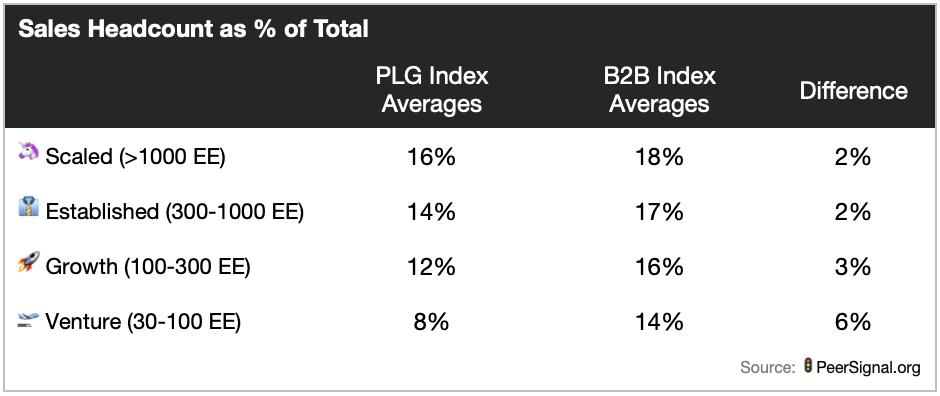 (Source: Peersignal.com)
Sales-led Companies Are Turning to PLG 
Many sales-led companies have a smaller Total Addressable Market (TAM), so to achieve future growth and avoid stagnation, they're adopting PLG tactics to monetize their existing user bases. 
One such company is Logz.io, who took self-service users from 0% to 50% of new customers in only 12 months. What started out as an adaptive move to help Logz.io align with buyer behavior turned out to be a powerful way for them to open up the market and build on their existing success—this is the power of a hybrid model.
How to Introduce Product-led Motion (for SLG Companies)
Introducing a product-led motion is a big shift for SLG companies—a shift that affects your product, operations, customer enablement, and culture. That's a lot of change. For established sales-led companies, diving right into a product-led model can seem more disruptive than productive. Since introducing a new growth model is a cultural change as much as it is an operational one, when you choose to make this shift matters. You'll need both internal and external buy-in as well as momentum to support it. Good times to introduce PLG may be when you're:
Rolling out a new product

Making a major product update

Acquiring another company or product

Announcing a company-wide rebrand
But most importantly, the switch to a hybrid model should be spread out into bite-sized pieces. Start your product-led journey with a single product. Instead of completely removing sales from the equation, sales-led companies can hire or train a dedicated product-led team to manage, roadmap, and test a single product to see how it performs in the market. Based on its success or failure, you can make an internal case to the rest of your company to conduct more product-led growth experiments and create new opportunities.
How to Introduce a Sales-led Motion (for PLG Companies)
Introducing a sales-led motion is less speculative and requires an in-depth analysis of your current user base. 
The first step is to identify accounts that would be good candidates for sales development. For example, a company that has several of its already employees using your product would make a great qualified prospect—you'd have internal users willing to champion your product, and the increased usage could lead to a potentially high annual contract value (ACV).
Once you've identified qualified prospects within your customer base, you'll have to find alignment between your new sales and R&D departments. At first, your reps should focus on expanding deal sizes with existing customers instead of closing new deals—this will prevent them from making feature promises to customers that could alter your product roadmap.
Finally, consider implementing a "commission-free" compensation plan at the early stages to prevent reps from chasing accounts with high ACV's that aren't a good fit for your product. Instead, use this time to test what accounts respond best to sales engagement. A standard commission plan can be reintroduced after you've nailed down your sales processes.
How a Hybrid Approach Affects Finance Teams
It doesn't matter whether you're currently product-led or sales-led. If you're looking to scale, both are needed. Customers want more control over what they buy, when they buy, and how they buy your SaaS—sometimes that means getting started on their own, and sometimes it means talking to a sales rep. 
However, the flexibility afforded by a product-led or hybrid model is only possible when you have the systems and tools to support it. This is the main hurdle that SaaS companies, specifically sales-led ones, face when transitioning to a hybrid model—they soon find they don't have the tools they need to quickly develop and maintain flexible pricing and packaging. 
Even when you do finally manage to deploy a new pricing strategy, the problem soon shifts to finance's shoulders as they attempt to recognize and report on complex revenue while maintaining GAAP compliance. This friction puts sales/product and finance teams at odds with each other, especially when creating a competitive GTM strategy. 
But you shouldn't have to choose between flexibility and your finance team's sanity. With Chargify and SaaSOptics, you don't have to. SaaSOptics and Chargify are the leading providers of financial operations and subscription billing management solutions for subscription businesses. 
With our complete billing and financial solutions, your SaaS business isn't forced to choose between product-led or sales-led. You can adopt a hybrid approach, break into new markets, capture more market share, and increase retention by giving customers the options they're looking for.
Schedule a demo with SaaSOptics to learn more.