QuickBooks is among the leading accounting software for keeping track of business financials. Small and large companies use it to manage everything from sending invoices and receiving customer payments to viewing customer transaction histories and recording taxes.
However, while QuickBooks is a highly versatile accounting tool, it can't do it all. For instance, you can't use it to track billable time, manage and follow up leads, forecast client profitability, and more. For such actions, we recommend having a CRM with QuickBooks integration.
Benefits of Integrating Your CRM with QuickBooks
Customer Relationship Management (CRM) software helps companies use their available data to manage customer interactions and relations. By pairing CRM with QuickBooks, you can drive revenue by using your stored client data to fast-track and enhance your sales process.
Besides helping you with sales, having a CRM integration with QuickBooks can boost customer satisfaction, engagement, and retention. The setup accomplishes this by using customer data to automate sending personalized responses to client queries or providing customers with updates and reminders.
Below are more benefits you can expect if you have a CRM integration with QuickBooks:
Simplify Sales
The primary goal of your company is likely to attract customers and sell. Achieving these goals in a highly competitive market is already a lot of work without the complication of managing invoices and other aspects of your finances. A QuickBooks integration with a CRM can help you simplify sales by using data to automate invoice creation and delivery, lead follow-ups, and other aspects of sales, finance, and customer management.
Avoid Double Data Entry
Integrating a CRM with QuickBooks will sync your customer data across various systems. After entering new customer information into one system, it will automatically reflect in every other connected system. The automatic update will help your team avoid the hassle of manually entering the same data into different systems. Besides being less tedious, it saves time, freeing your team to handle more pressing tasks.
Improve Data Security
A QuickBooks CRM integration allows you to control who can access specific data. Allowing employees to access only the data needed to do their job will reduce the likelihood of experiencing a security breach.
Get Your Team on the Same Page
A CRM integration with QuickBooks will ensure that all your personnel has the same customer information, such as a customer's transaction history. If all employees have the same information, you never have to worry about a customer receiving contradictory details from different people from your company.
Also, since all your employees will have fast and easy access to a customer's details, any one of them can quickly answer a customer query. According to HubSpot, 82% of customers want an immediate response when making marketing or sales-related inquiries, while 90% expect quick answers when trying to resolve a customer support issue.
Accurate Data Entry
A QuickBooks and CRM integration will minimize the risk of incorrect data entry by automating entries and workflow processes. For instance, with one click, quotes can automatically convert into sales orders and orders into invoices. Eliminating the need to create such documents manually removes human errors like wrong entries that could cost your business thousands of dollars.
5 Best CRM with Quickbooks Integration
As you can see, a CRM with QuickBooks integration can make your business more efficient in several ways. However, CRM software tools are not equal. Some are more user-friendly, affordable, and robust than others.
Do you need help finding the best CRM to integrate with your QuickBooks? If so, look no further than the below compilation of the five best CRM with QuickBooks integration:
Teamgate
Teamgate is a smart customer relationship software packed with tools that simplify managing various aspects of your customer acquisition, communication, and sale process. Even though it has several features, learning how to use Teamgate and integrating it with QuickBooks is easy, thanks to its intuitive interface.
The CRM also has a user-friendly dashboard for viewing reports and forecasts and using the insights to make well-informed decisions. Businesses of all sizes can use Teamgate, and the CRM works on various mobile and desktop web browsers, allowing you to collaborate with your team from anywhere.
Below are more features that set Teamgate apart from other CRMs:
Easy Setup: Adopting and using Teamgate is so hassle-free that it has earned the platform several awards over the years. Integrating Teamgate with QuickBooks is just as quick and easy, requiring no specialized skills.
Reliable Customer Care: If you run into issues while using Teamgate, you can easily get help from its knowledgeable, friendly, and hands-on customer care team.
Multi-Platform Integration: Besides QuickBooks, Teamgate can integrate with other platforms, such as Mailchimp, Zapier, Twilio, and Google Drive. The Zapier integration is essential because it allows you to integrate with even more tools, such as Trello, Slack, and Asana.
Sales Inbox: Teamgate has an in-built sales inbox for receiving and sending emails directly from your CRM. The feature lets you avoid the hassle of changing between inboxes when you need to communicate with a different client.
Analytics and Reports: The CRM provides insights that give a real-time image of your sales funnel and other aspects of your business. The information will help you quickly identify and fix sales pipeline blockages and other issues stopping prospective customers from converting or completing purchases.
Affordable: Teamgate's pricing plans ensure businesses with different budgets can afford a quality CRM. Its affordability earned it a place among Capterra's Top 20 Most Affordable CRM Software of 2017.
SmartDialer: The auto dialer is a VOIP app that allows you to reach out to leads faster. Besides helping you save time, SmartDialer can track the number and effectiveness of calls made to clients.
Capsule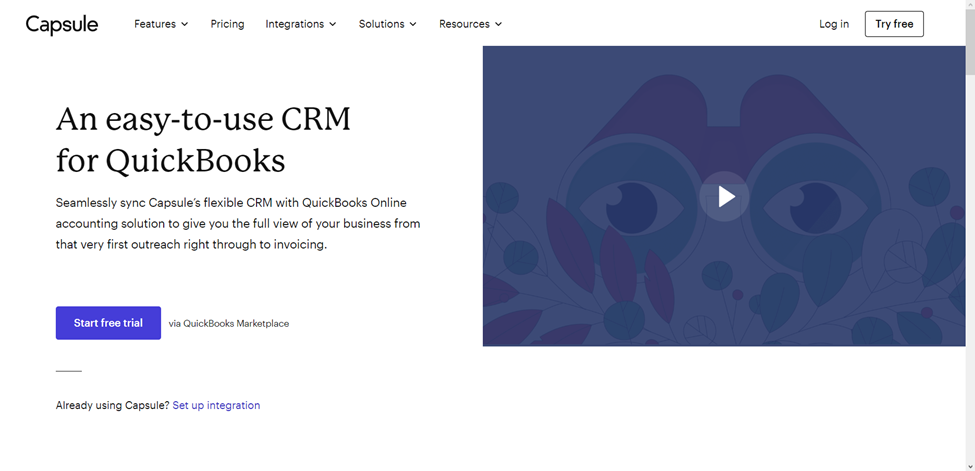 Capsule is another user-friendly CRM that integrates with QuickBooks. You can customize the CRM software to match your organization's unique needs, and onboarding the software takes little time. After onboarding Capsule, you can auto-import contacts from QuickBooks and track customer communications and transactions.
Other customer information you can view and monitor with Capsule are estimates, quotes, lifetime customer value (LTV), invoice history, and overdue payments. The information will give you a clear overview of each customer and their transactions with your company. Other impressive features that make Capsule an ideal CRM for QuickBooks integration are:
Email Tools: The platform provides email templates that you can customize to provide customers with notifications and updates. You can also integrate Capsule with Outlook or Gmail.
Tasks and Calendar: You can set up appointments, phone calls, notifications, and meetings with customers on Capsule.
Sales Pipeline: Capsule offers a transparent sales pipeline that provides a complete summary of your customer accounts and opportunities. You can create separate pipelines for the sales process of each product you offer.
Sales Analytics: Integrating Capsule with QuickBooks will provide valuable insights that you can use to optimize your sales cycle to get better results.
Project Management: You get an in-built project management tool for monitoring and managing your sales and services.
HubSpot CRM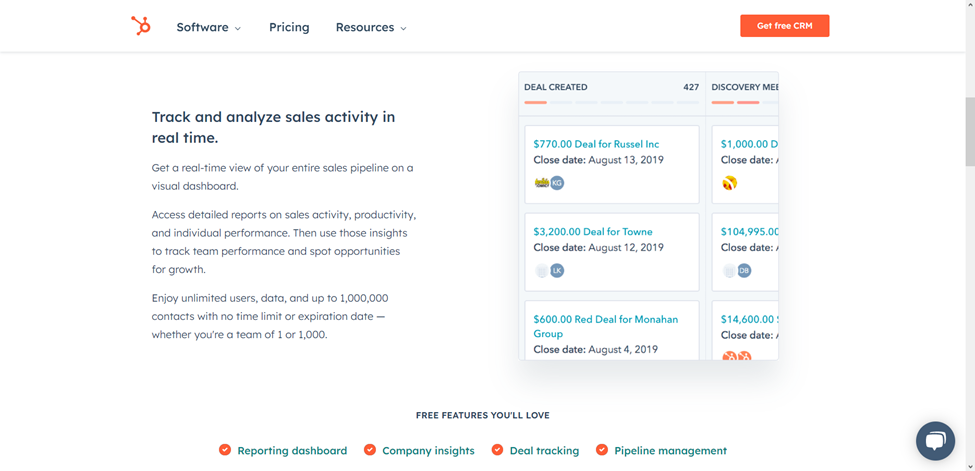 HubSpot offers a free CRM platform that you can integrate with QuickBooks to view customer transactions, invoices, and outstanding payments without switching to QuickBooks. Your salespeople, marketers, customer support team, operations manager, and other authorized staff can all use the CRM platform to simplify their daily duties.
Other functions you can perform after integrating the CRM with QuickBooks are creating new records for vendors, customers, and purchase orders. Also, once you enter fresh data into the CRM, HubSpot will automatically sync records to update existing entries in QuickBooks and other integrated systems.
However, the HubSpot CRM isn't perfect. Some of its shortcomings include the inability to connect a QuickBooks sandbox account to HubSpot and the need to disable custom transaction numbers in QuickBooks to avoid syncing errors. On the upside, other features that make the HubSpot CRM worth considering are:
Robust CRM: Despite being free, the HubSpot CRM offers several valuable features. You can get even more features by switching to a paid plan.
Real-Time Sales Tracking: You can track and analyze sales activity in real time via a visual dashboard. Seeing your entire sales pipeline in real-time will enable you to troubleshoot issues and take advantage of opportunities faster.
Deal Pipeline: The deal pipeline allows you to add and monitor deals, assign tasks, and track your best prospects.
Live Chat: You can receive notifications when a customer opens an email or visits your website and immediately follow up via live chat, email, or phone.
Dashboard and Reporting Software: The dashboard has several advanced features, but its intuitiveness ensures that anyone can use it. You also get secure data management that allows you to control who can access specific data.
Pipeline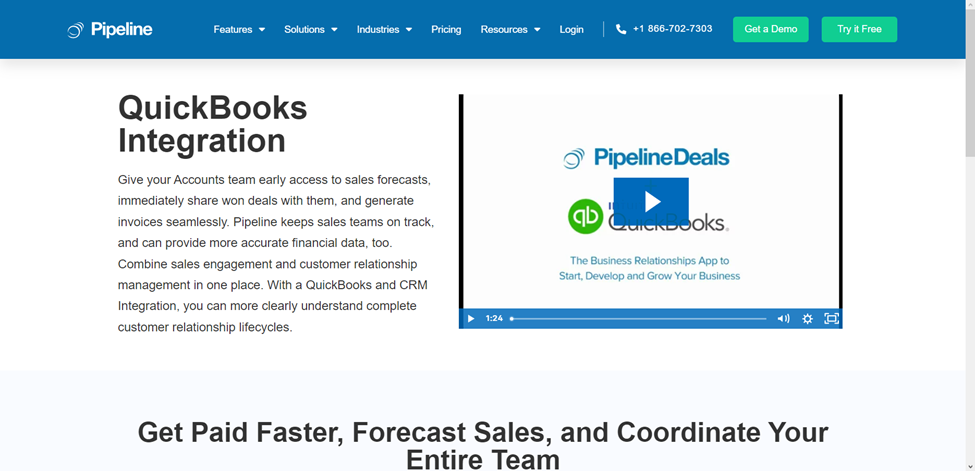 For many businesses, Pipeline is the preferred CRM to integrate with QuickBooks for sales forecasting. Companies typically use the sales forecasting system to project sales revenue over a specific period and identify if sales team members are on track to hit quotas.
Besides sales forecasting, Pipeline's CRM integration with QuickBooks allows users to manage invoices and automatically sync data between both platforms. On the downside, Pipeline does not offer a free plan or customer support outside standard business hours. Below are more distinctive Pipeline features:
Sales Pipeline Mobile App: Pipeline has an Android and iOS app that allows you and your team to view sales pipelines via any mobile device with an internet connection.
Data-Driven Sales Forecasting and Insights: Integrating Pipeline with QuickBooks allows it to analyze payments, invoices, and estimates to provide accurate customer insights and financial reports.
Invoice Management: You can generate QuickBooks invoices and send them with Pipeline, eliminating the hassle of switching between platforms.
Project Management: Pipeline integration with QuickBooks equips teams to manage, organize, and collaborate on projects in real-time.
Method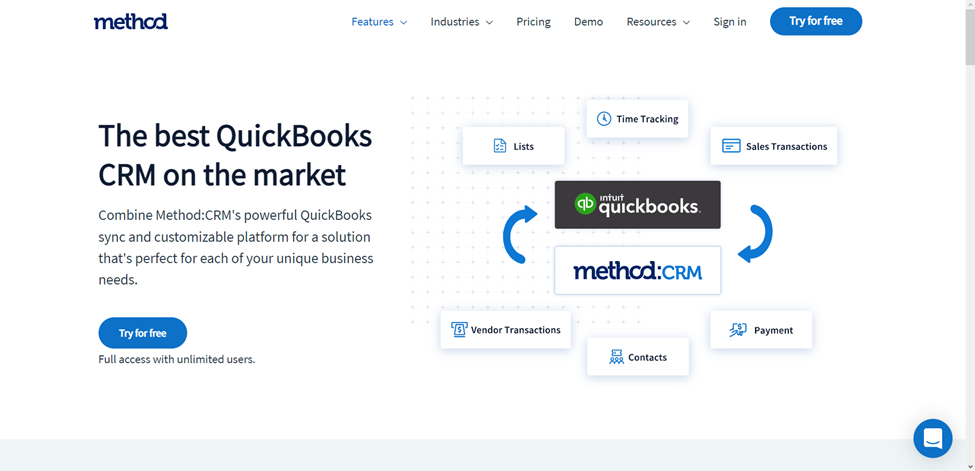 Method CRM with QuickBooks integration simplifies managing sales data with your teams. Every employee authorized to use the app can view customer details, such as transaction history, accounting data, and even contact information for reaching out to a customer. Customers can view similar information and track their past support requests.
You can easily integrate Method CRM with all desktop and online versions of QuickBooks. Also, unlike most CRMs, Method does not require entering your credit card details to access its 30-day free trial. Here are more features that make Method a commendable CRM for QuickBooks integration:
Customizable Platform: You can adapt Method to match your unique business needs and preferences.
Time-Tracking: Method allows users to generate invoices based on time sheet records. The system can also track time by job, project, or customer, removing the need to track project durations manually for invoices.
Financial Management Tools: QuickBooks integration with Method allows users to generate and send invoices, receipts, estimates, sales orders, bills, and purchase orders from the CRM.
Vendor Management: You can add and manage vendors in the CRM and sync vendor data from your QuickBooks.
Customer Online Portals: Your customers can access the QuickBooks online portal via the CRM to view estimates and make payments.
Achieve More with the Best QuickBooks CRM Integration for Your Business
While several excellent CRMs that integrate with QuickBooks are available, not all of them will be a good fit for your business. The best CRM with QuickBooks integration for your company will be one that fits your budget and offers the features you need.
The CRM should also be user-friendly and simplify various aspects of your sales and finance management. Teamgate checks all these boxes, but you don't have to take our word for it. Try any Teamgate plan for free for 14 days to find the best one for your team.