Gmail currently has over 1.8 billion users, and you are probably one of those users. However, like most people, you and your business are most likely not using Gmail to its fullest potential. If you would like to change that, the first thing you need to do is get a CRM with Gmail integration.
If you have a CRM integration with Gmail, you can automate your email marketing, organize contact data, and streamline your sales process within Gmail to complete sales faster. What are the best CRMs with Gmail integration for achieving these results and more? We'll tell you in a second, but first, let's take a closer look at the benefits of integrating a CRM with Gmail.
Benefits of Integrating Gmail with Your CRM
Gmail is an exemplary email provider that is easy to use and affordable. However, the platform has its limits when used on its own. If you integrate Gmail with CRM (Customer Relationship Management) software, you can look forward to increased functionality and other benefits like:
Gmail Management
A quality CRM will allow you to access all your Gmail accounts from one place. A CRM that lets you view all your emails in one inbox will simplify managing and responding to emails.
Save Time
Integrating Gmail with a CRM can help you automate adding new contacts each time a new person emails your team.
Track Leads
A CRM with Gmail integration will enable you to track conversation histories and monitor leads to identify the ones most likely to convert.
Email Templates
You can find CRMs stocked with email templates that your team can modify to respond quickly to customer queries. Using email templates eliminates the hassle of having to craft messages from scratch.
Google Workspace
After integrating Gmail with a CRM, your team can access various other Google Workspace tools via the CRM, such as Google Calendar and Drive.
Faster Response Times
82% of consumers expect an immediate response (within ten minutes) to marketing, sales, and customer service inquiries. With CRM and email integration, you can automate responses to emails to answer customer queries faster and more accurately.
Best CRMs with Gmail Integrations
Some CRMs integrate with Gmail better than others. Here are your best options if you want a CRM integration with Gmail that can enhance team communication and productivity:
1. Teamgate
Teamgate is an award-winning CRM that equips sales, customer relations, and marketing teams to work faster and smarter. The CRM platform accomplishes this by being an all-in-one tool for managing customer communications and various sales processes. You can further boost the CRM's functionality with email integration, such as integrating the platform with Gmail.
Integrating Gmail with Teamgate will improve email communication with your current and potential customers and keep all your correspondence safely stored in one place. The integration will also optimize your team's efficiency by facilitating collaboration from different locations.
Lastly, a Teamgate and Gmail integration will simplify tracking email communications with clients and leads. You can use the tracked data to communicate more effectively to reduce customer churn and increase the likelihood of converting prospects. Here are more benefits you can expect from using Teamgate as your CRM: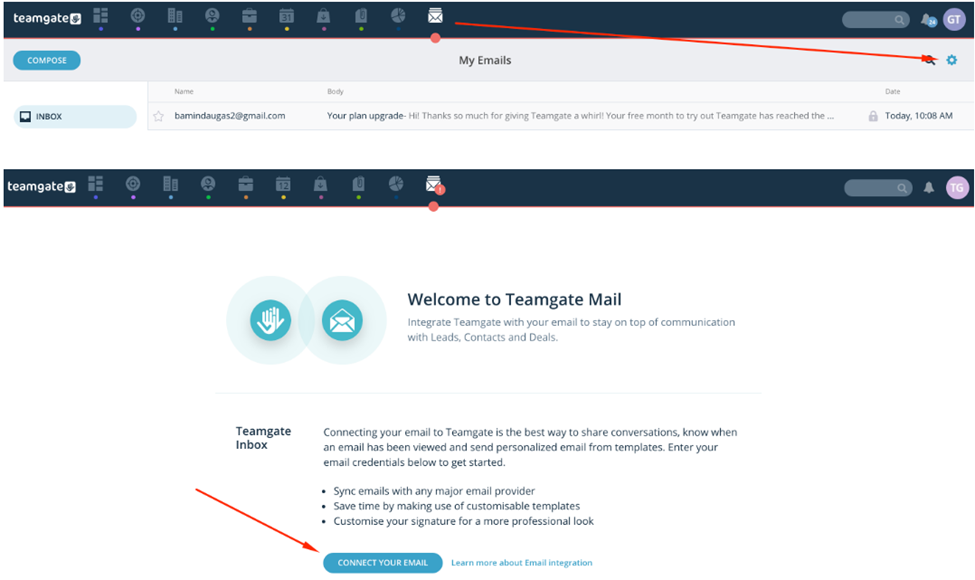 Connect More Emails: Besides Gmail, you can integrate other emails with Teamgate, such as Outlook and Thunderbird. Integrating all your emails with the CRM will allow your team to access all customer communications from one location.
Centralized Information: Teamgate offers secure storage for all your customer-related data, such as contacts and conversation histories. Team members can easily find the customer information they need to do their jobs within the CRM.
Email Templates: Teamgate provides email templates that help teams save time and effort. Instead of crafting emails from scratch, team members can select the most relevant templates and modify them to answer a customer.
Valuable Resources: Teamgate offers a host of resources that your team can study to optimize their sales process. These resources cover everything from how to write sales emails to how to choose the right CRM.
Analytics and Reports: The Teamgate CRM automatically gathers relevant data from customer communications and provides valuable insights. Your team can use the insights to improve communications and make smarter sales actions.
Sales Pipeline Management: The CRM will show each prospect's position in your sales process. The information will help your team determine the best email to send to keep a prospective customer moving through the sales process.
Automation: You can automate email creation and sending to communicate with clients faster and more efficiently.
Teamgate offers three affordable plans for businesses of different sizes. The cheapest plan is the $9 per month Starter plan, while the priciest plan costs $65 per month.
2. HubSpot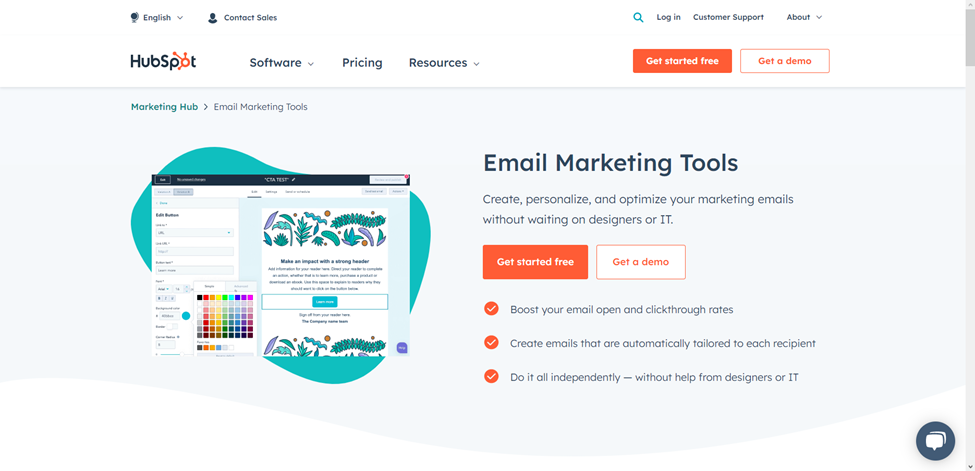 The HubSpot CRM offers seamless Gmail integration that lets your team view all Gmail messages in one inbox. Your team can also respond to Gmail messages from that same inbox and log emails to keep track of customer communications.
Another valuable feature is the platform lets you track email clicks and opens in real-time. If your team knows when a prospect opens emails, they can schedule emails to deliver when prospects are most likely to open them. Unlike most CRMs with Gmail integration, HubSpot is free. However, if you want advanced features like sales sequences and automation, you will need a paid plan.
Other features that make HubSpot a top-notch CRM with Gmail integration are: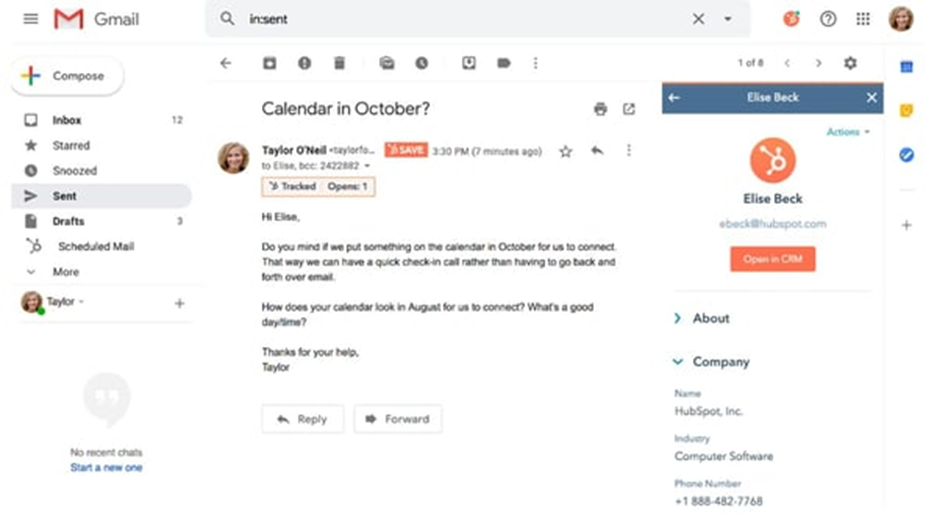 Team Inbox: Your whole team can access and view emails from one location, eliminating the need to switch between email providers to check or reply to messages.
Templates and Meeting Scheduling: The CRM provides email templates that your team can easily modify to respond quickly to customer queries. The platform can also automatically schedule meetings based on information contained in an email.
Visual Dashboard: HubSpot's dashboard provides customer insights in an easy-to-understand format. Your team can use the insights to optimize customer communication and email timing.
Email Reply Tracking: Identify the emails customers are opening and use the insight to discover your best-performing campaigns.
Unlimited Users: All plans, including the free plan, support unlimited users and give them access to live chat support and other features that aren't free in most CRMs.
Besides its free plan, HubSpot offers a $45 Starter plan, $800 Professional plan, and $3,600 Enterprise plan.
3. Zoho CRM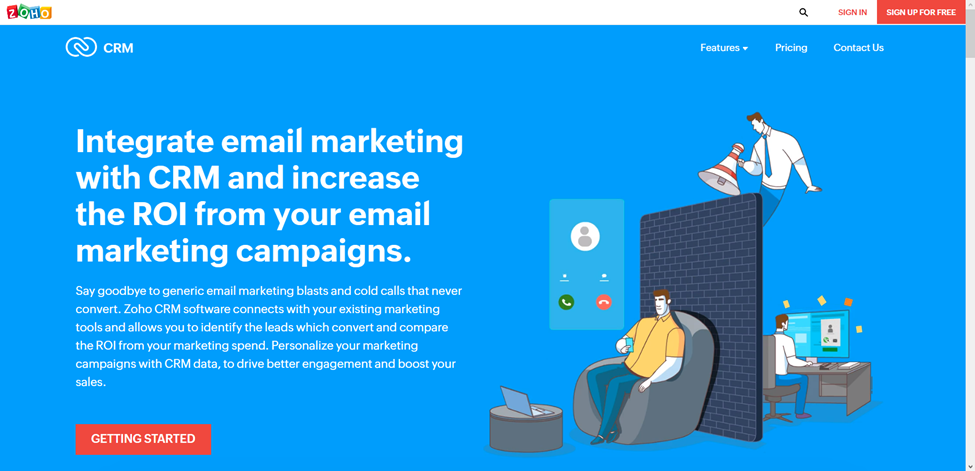 The Zoho CRM makes the life of sales teams easier by offering all the tools they typically use in one location. You can integrate G Suite with the CRM and have access to Gmail, Google Calendar, Google Contacts, and other Google tools.
The CRM's two-way synchronization ensures that any changes to data stored in a connected app will reflect in the CRM and every other connected app. Your team can also use Zoho to automate emails, customer journeys, processes, and campaigns from Gmail, freeing up your team to focus on other tasks. Lastly, since Zoho is easy to use, your team won't have trouble adopting it.
Other benefits that make Zoho a top-six CRM with Gmail integration are: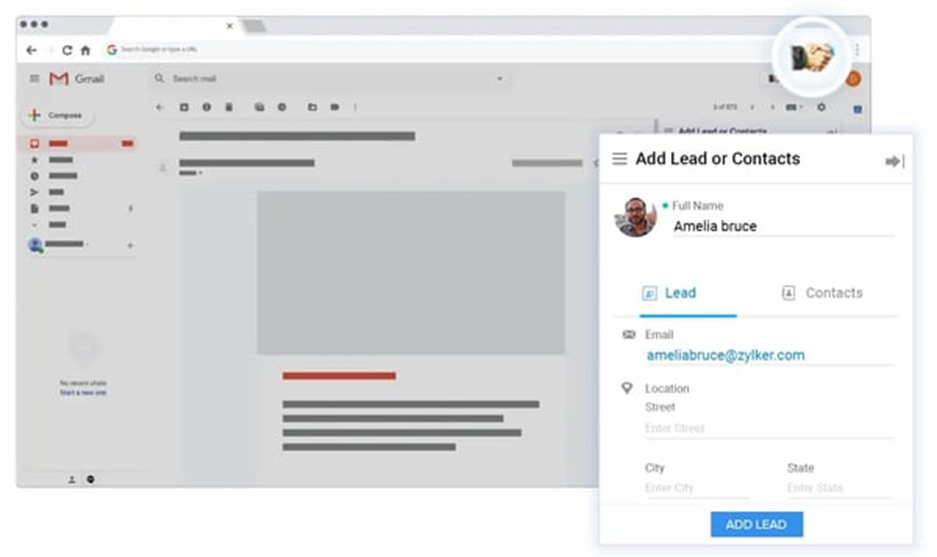 Easy Setup: Setting up Zoho and integrating it with Gmail is quick and easy.
Sync Campaigns: Use the CRM to sync all your marketing campaigns and discover which leads interacted with which campaigns and when the interaction occurred.
Automation: Zoho allows your team to automate several functions relating to leads, contacts, accounts, and deals.
Centralized View: The CRM prevents confusion by letting your team view emails, tasks, events, call logs, and notes in one location.
Template Creator: Create and modify email templates with Zoho's hassle-free drag-and-drop interface.
Real-Time Notifications: Receive real-time alerts when a client unsubscribes or subscribes to your email campaign. You can also get alerts when recipients open emails and use the insight to time your campaigns.
The Zoho CRM is available for as little as $12 per month. However, if you want more features, you can opt for the $20 per month Professional plan, the $35 per month Enterprise plan, or the $45 per month Ultimate plan.
4. Agile CRM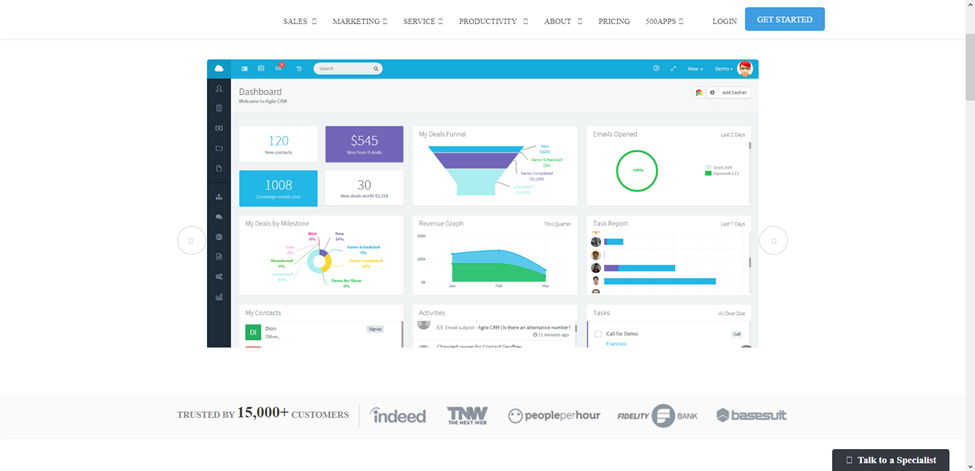 Agile is a cloud-based CRM that users can access via desktop and mobile devices. The platform's sales CRM integrates with Gmail, allowing your team to access various CRM tools from their inbox.
Once you've integrated Agile with Gmail, you can track and view all your emails from within the CRM. Also, you can access, manage, and update contacts from within the CRM or Gmail. Since the system has two-way synchronization, any data changes in Agile or Gmail will immediately reflect in the other platform.
Other reasons to make Agile your CRM with Gmail integration are: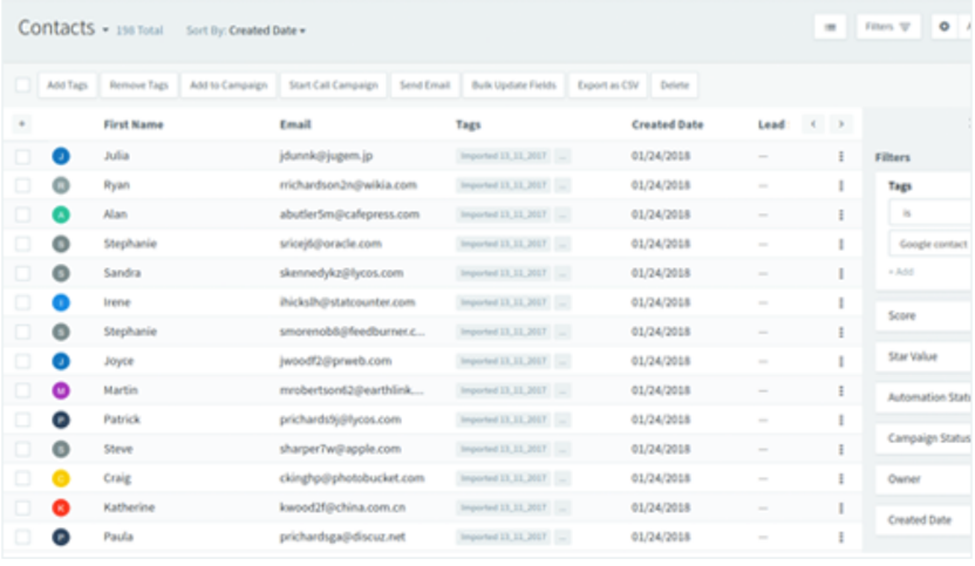 Track Gmail Conversations: You can track sent emails from within the CRM. Some of the email details you can track include email opens and clicks.
Contact Timeline: Your team can access the CRM to view every email sent and received by a contact. Access to this information ensures that any team member can continue following up with a prospect or customer.
Contact Management: The CRM will automatically store any new contact detail created in your Gmail account.
Streamlined Communication: Gmail and Agile integration allow your team to view and respond to all emails from one location. Having one tool for all your email tasks saves time because your team no longer has to switch between multiple platforms.
Easy Setup: Integrating your Gmail account with the Agile CRM is easy, allowing your team to adopt the system quickly.
Agile offers a free plan that supports up to ten users, but the free plan does not offer email templates, marketing automation, and other features. If you want these features, you can choose the $8.99 Starter plan, the $29.99 Regular plan, or the $47.99 Enterprise plan.
5. Monday.com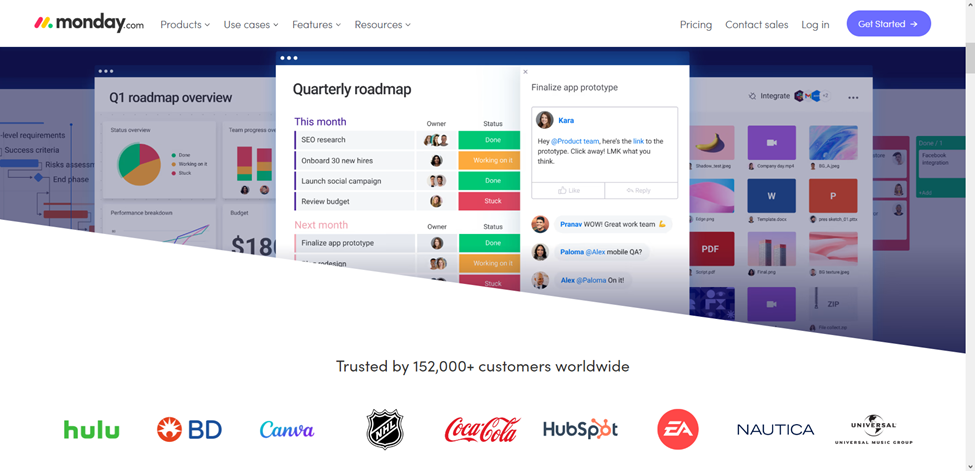 Monday.com is an intuitive CRM with Gmail integration. With the platform, you can connect your Gmail inbox with your workflows and turn emails into action items to automate multiple processes. Monday.com also offers a sales pipeline where you can view your deals and the stage of each customer in the sales process.
Lastly, the platform offers contact management features that allow your team to monitor every customer's information from one location. Other reasons to try Monday.com are: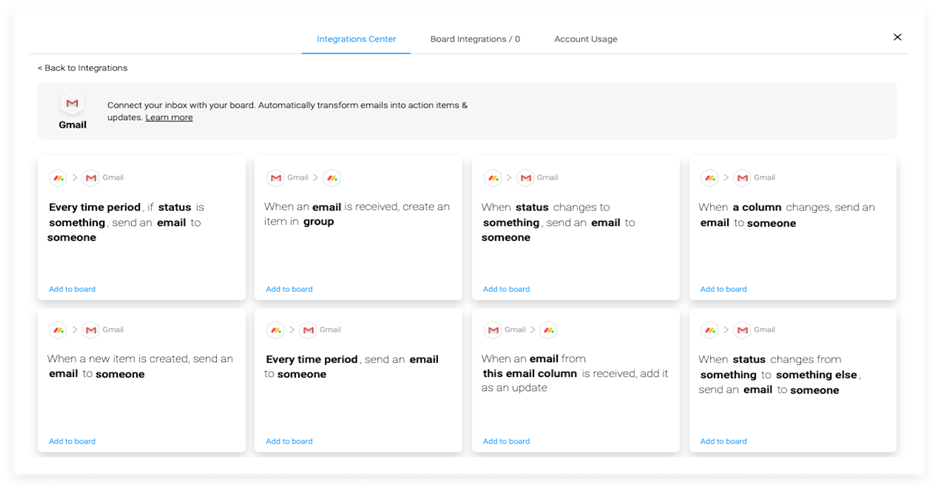 Email Centralization: The CRM places every email in one location, simplifying accessing communication histories and team collaborations.
Sales Pipeline: Stay updated about each customer's position in the sales process and close deals faster by leveraging your available data.
Create Actions: You can create actions directly from your inbox by transforming emails into actions to automate and track your workflow.
Work OS: Work OS is a cloud-based software that simplifies sorting incoming emails. When emails are where they should be, your team can easily find the conversation histories they need.
Monday.com has a free plan, but its most popular plan is the $10 per month Standard plan.
6. Capsule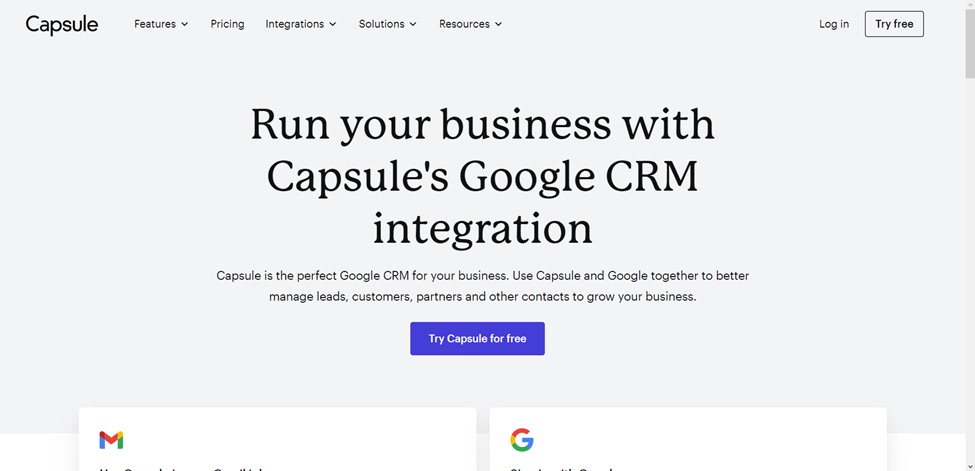 Capsule's online CRM integrates with Gmail and other G Suite add-ons, enabling your team to access their favorite Google tools on one platform. Combining the CRM platform with Gmail will let your team capture customer information, view contact records and message histories, add tasks, and perform other functions from within their Gmail account.
The CRM platform's intuitive user interface ensures that your team members won't struggle with using the tool. Also, automatic synchronization eliminates the need for tedious, multiple entries. Other benefits you can expect when you integrate Capsule with Gmail are: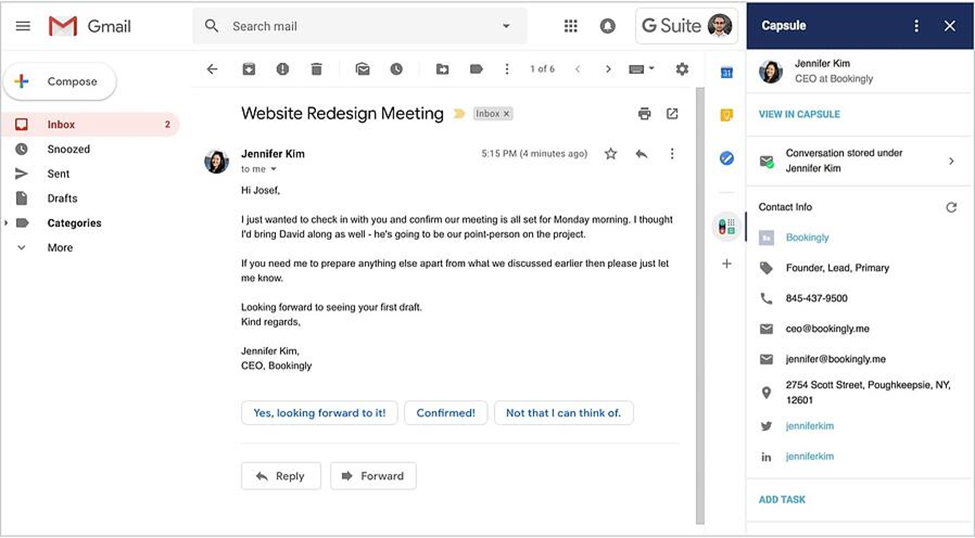 Custom Fields: You can create custom fields in the CRM to capture relevant data for your unique business needs. The customizability of the platform makes it suitable for businesses in various niches.
Mobile Apps: Your team can conveniently access the CRM on the go from their iOS or Android devices.
Sales Opportunities: Your team can keep track of sales opportunities and see where each prospect is in the pipeline. Also, with the Gmail integration, you can record new opportunities straight from your inbox.
Task Management: Capsule offers a task manager for managing your to-do list so you won't overlook important tasks or miss schedules.
Sales Analytics and Reports: Your team can make better-informed decisions with the insightful reports provided by Capsule.
Capsule is available for $18 monthly, $36 monthly, and $54 monthly.
A CRM with Gmail Integration Allows You to Better Utilize Both Tools
Using a CRM with Gmail integration allows you to enjoy the best features of both tools. However, not every CRM that can integrate with Gmail is suitable for a business' needs. Your team needs a CRM that is user-friendly, affordable, and compatible with your existing ecosystem. The CRM should also have reliable customer support and features that can improve your communication and sales process.
Teamgate checks all these boxes, making it one of the best CRMs with Gmail integration. Besides Gmail, you can integrate other tools with the CRM, such as Zapier, WordPress, and QuickBooks. Take Teamgate for a test drive today with its 14-day free trial, and select a plan that fits your company's unique needs.