As a popular all-in-one marketing platform, HubSpot has been a leading choice for many businesses over the years. However, as the digital marketing landscape shifts and evolves, not every company may find HubSpot to be the right fit for their needs.
Whether it's because of its pricing model, features, or user interface, businesses need to explore the market and consider other options that may better suit their requirements.
In this article, we'll take a closer look at 10 HubSpot alternatives that can provide powerful and effective solutions for your business.
Key Takeaways
Here are some factors to consider when searching for a HubSpot alternative.
While HubSpot provides a complete suite of products and intuitive tools, it may only be suited for some industries and can get expensive for organizations that require advanced features and add-ons.
Hubspot is used by businesses to can manage their entire customer journey, from lead acquisition to nurturing and conversion.
When looking for a HubSpot alternative, pay attention to its pricing, ease of use, and range of features offered.
HubSpot covers a wide range of automation needs, from email marketing to sales workflow automation.
Table of Contents:
What Is HubSpot?
10 Top HubSpot Alternatives
FAQs: HubSpot Alternatives
What Is HubSpot?
Rating: 4.4/5 (G2)
HubSpot is a cloud-based marketing, sales, and customer service platform that provides various tools to help businesses grow by optimizing customer acquisition, engagement, and retention.
HubSpot is used by over 100,000 companies worldwide, ranging from small businesses to large enterprises, enabling them to create interactive and engaging experiences that drive growth and revenue.
Key Features of HubSpot
HubSpot offers various essential characteristics, such as:
Company insights: Have access to a database of company details for your prospects to make more accurate outreach decisions.
Deal tracking: Constantly keep track of the deals you are working on.
Reporting dashboard: View the metrics you care about in one place.
Pipeline management: Let your deal pipeline flow by managing and assigning leads to your team members.
Pros & Cons of Using HubSpot
Before integrating HubSpot, it's essential to balance its potential benefits against its drawbacks. Here are some pros and cons of using HubSpot.
Pros:
Complete suite of products: HubSpot provides all the features organizations need to manage their customer relationships effectively.
Intuitive tools: HubSpot requires little training, making it easy for users to quickly adopt and master the system.
Free to use: Organizations can start using HubSpot for free, eliminating concerns about the initial cost of implementing a new CRM system.
Cons:
Not suited for all industries: HubSpot has limited customization options for specific industries, making it less suitable for businesses with unique needs.
Can get overwhelming: The wide range of options available can be overwhelming for some users, and it may take time to find the most suitable features for specific needs.
Can get very expensive: HubSpot can become very expensive for organizations that require advanced features and add-ons.
10 Top HubSpot Alternatives
Here are some of the best HubSpot alternatives to check out.
Teamgate
Rating: 4.4/5 (G2)
Key Features:
Teamgate offers a great alternative to HubSpot thanks to its user-friendly interface and powerful features. With Teamgate, businesses can easily manage their sales pipeline, track leads, and automate workflows.
The platform offers great insights and reports, allowing businesses to make data-driven decisions and monitor their sales performance quickly. What's more, Teamgate offers excellent customer support, ensuring that companies receive timely assistance whenever needed.
Zoho CRM
RatingRating: 4/5 (G2)
Key Features:
Omnichannel: Engage with customers across multiple communication channels.
Sales enablement: Empower sales teams with tools and resources to increase productivity and success.
Predictive sales: Use data and machine learning to forecast sales and identify high-potential opportunities.
Marketing automation: Automate and optimize marketing tasks for increased efficiency and effectiveness.
Zoho CRM is a powerful customer relationship management tool that offers a wide range of features to businesses of all sizes. It includes lead and contact management, sales pipeline tracking, team collaboration, and analytics functionalities that help businesses to streamline their sales processes and make data-driven decisions.
Zoho is significantly cheaper than HubSpot and offers a similar range of features. Moreover, it integrates with over 50 third-party platforms, making it highly customizable.
Freshsales
Rating: 4.6/5 (G2)
Key Features:
Event tracking: Monitor and analyze visitor behavior on your website.
Conversion rate optimization: Use tools to improve the percentage of website visitors who take action.
Customer segmentation: Divide customers into groups based on shared characteristics to personalize marketing efforts.
Deal management: Track and manage sales opportunities from initial contact to close.
Freshsales is a cloud-based customer relationship management software that helps businesses manage their sales processes and improve their overall customer experience.
Compared to HubSpot, Freshsales has unique features, including better lead response times, advanced AI capabilities, and a 360° customer view. Businesses can auto-assign leads, make data-driven decisions, and personalize customer experiences using the tool's AI capabilities. Freshsales' cost-effectiveness makes it a practical option for businesses, as users often get faster ROI when compared with HubSpot.
EngageBay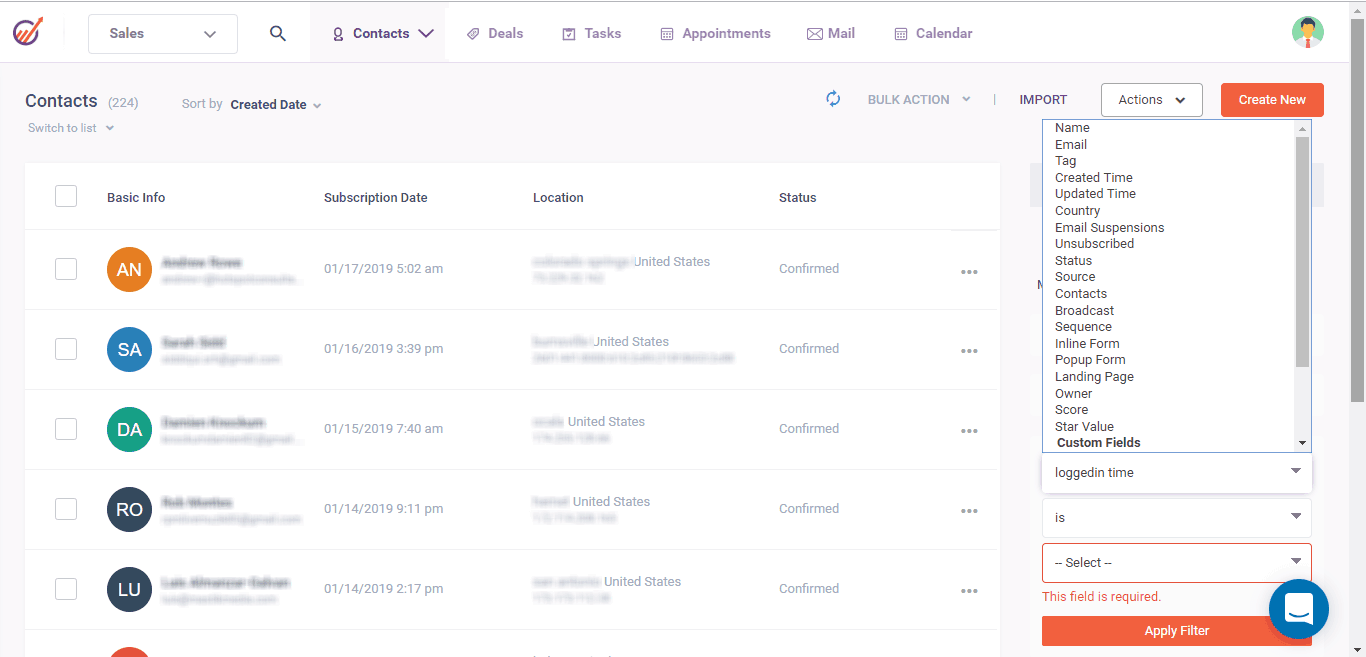 Rating: 4.6/5 (G2)
Key Features:
Live chat software: Enables businesses to communicate with website visitors and provide instant support, with customization options for chat forms.
Helpdesk software: Provides ticket management and automation, allowing businesses to handle customer inquiries and issues efficiently.
Appointment scheduling: Streamlines the scheduling process by allowing customers to book appointments online and businesses to manage their calendars more effectively.
EngageBay is an all-in-one marketing software with a heavy emphasis on marketing automation. The software offers a range of valuable features, such as lead generation capabilities and contact management software, making it a great alternative to HubSpot for businesses looking for an all-in-one solution.
One unique advantage of EngageBay is that even on the free plan, users can access valuable marketing automation features unavailable in HubSpot's free plan. While you can't use sales automation as part of EngageBay's basic plan, several free features, such as SSL landing pages, email sequences, and technical support, are available.
Pipedrive
Rating: 4.5/5 (G2)
Key Features:
Customization: Tailor Pipedrive's modules, pipelines, fields, and settings to best suit your business needs.
Insights and reports: Get a clear overview of your sales data, pipeline performance, and team progress through extensive reporting and analytics.
Integrations: Connect all your essential apps and tools to Pipedrive, including marketing automation, telephony, accounting, and more.
Pipedrive is a sales-focused CRM solution ideal for teams of all sizes. It boasts a simple and powerful design, making it easy to use while delivering robust reporting and analytics features.
In terms of distinguishing itself from HubSpot, Pipedrive is the more cost-effective option, with a seamless user interface requiring minimal training and support. On the other hand, while HubSpot is undeniably more customizable, it is also significantly more expensive, making it less suited for small businesses looking to automate their sales and marketing processes.
Sendinblue (now Brevo)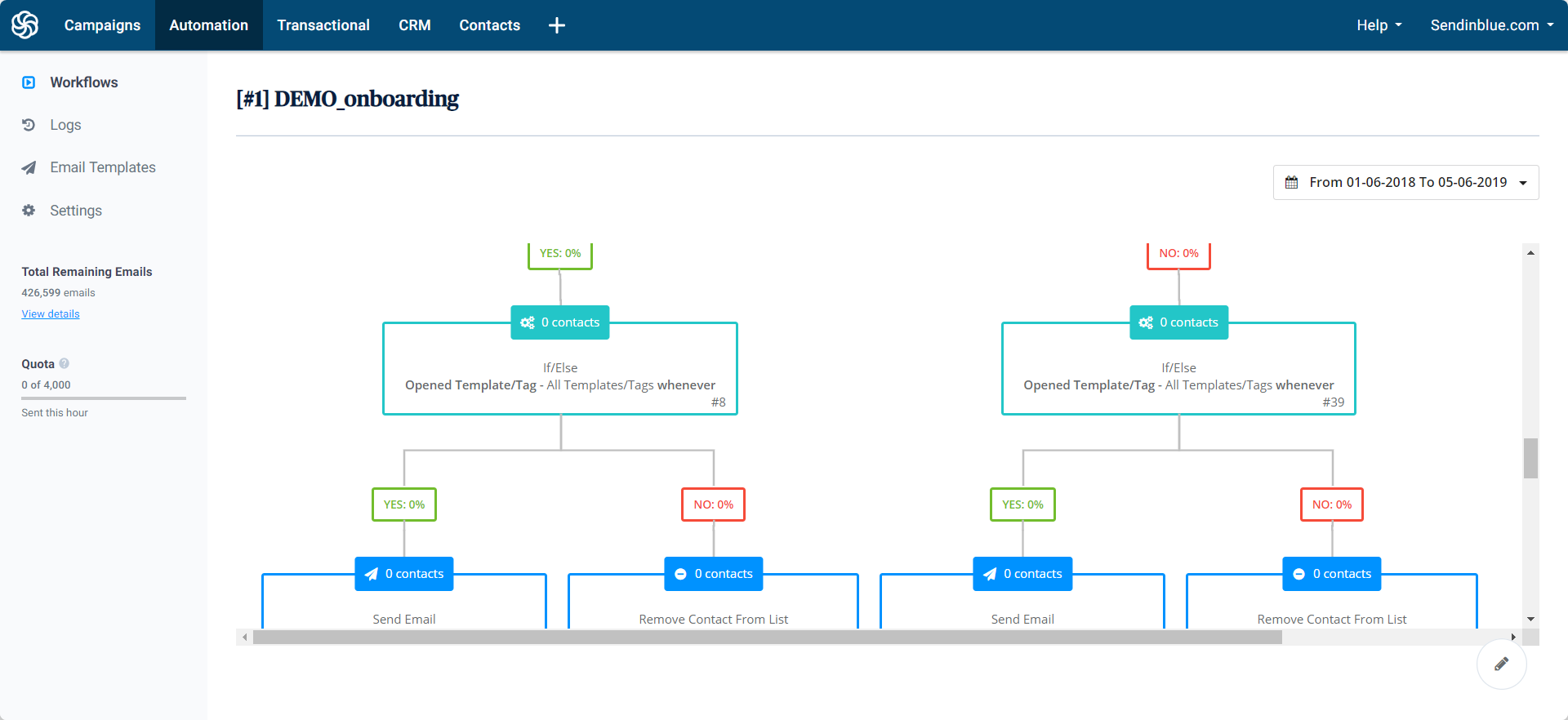 Rating: 4.5/5 (G2)
Key Features:
Templates: use pre-built email templates and simplify GDPR compliance.
Personalization: increase open rates through email personalization and create more relevant experiences.
Sign-up forms: collect information easily and use GDPR-compliant opt-ins for different email types.
Retargeting capabilities: create specific audiences based on page visits or actions.
Sendinblue is a CRM focused on email marketing and automation, allowing teams of all sizes to run multi-channel marketing campaigns. With Sendinblue, users can easily create newsletters, promotional emails, and transactional messages from scratch or using pre-existing templates.
What sets Sendinblue apart from HubSpot is its pricing, which is more affordable and scalable, making it a great option for growing teams. However, it's worth noting that Sendinblue's third-party integrations are limited, and reporting features are less robust than HubSpot's.
Zendesk
Rating: 4.3/5 (G2)
Key Features:
Unified platform: All-in-one solution for prospecting, engagement, and lead generation.
Easy set-up: An intuitive,easy-to-use interface.
API-friendly: Zendesk offers open APIs that seamlessly integrate with current solutions and provide customization through the Zendesk apps framework.
Zendesk is a service-first CRM that focuses on building better customer relationships. With features such as a knowledge base, self-service portal, and community forums, Zendesk is designed to help customer support teams provide excellent customer service.
Compared to HubSpot, which is mainly focused on sales and marketing, Zendesk is easier to use with a simple and user-friendly interface. Bear in mind that Zendesk primarily focuses on support, making it a more suitable solution for businesses that require a CRM to handle customer support.
Insightly
Rating: 4.2/5 (G2)
Key Features:
Customer support: Insights and analytics to support customer service operations and a knowledge base to help customers find answers to common questions.
Sales force automation: Provides tools to manage contacts, sales pipelines, and tasks.
Marketing automation: Automates email marketing campaigns and streamlines the lead management process.
Insightly is a cost-effective CRM that provides businesses with a flexible and scalable approach to managing customer relationships. It is designed to help teams build and manage their sales pipelines and offers a range of features, including contact management, project management, and task tracking.
Compared to HubSpot, Insightly stands out as a better choice for users who need a CRM with additional project management features, particularly those with longer sales or support cycles. While HubSpot is an excellent option for users who require free or low-cost CRM software with essential lead generation and marketing tools, Insightly's comprehensive suite of tools makes it ideal for businesses looking to streamline their sales and marketing processes while staying within budget.
Marketo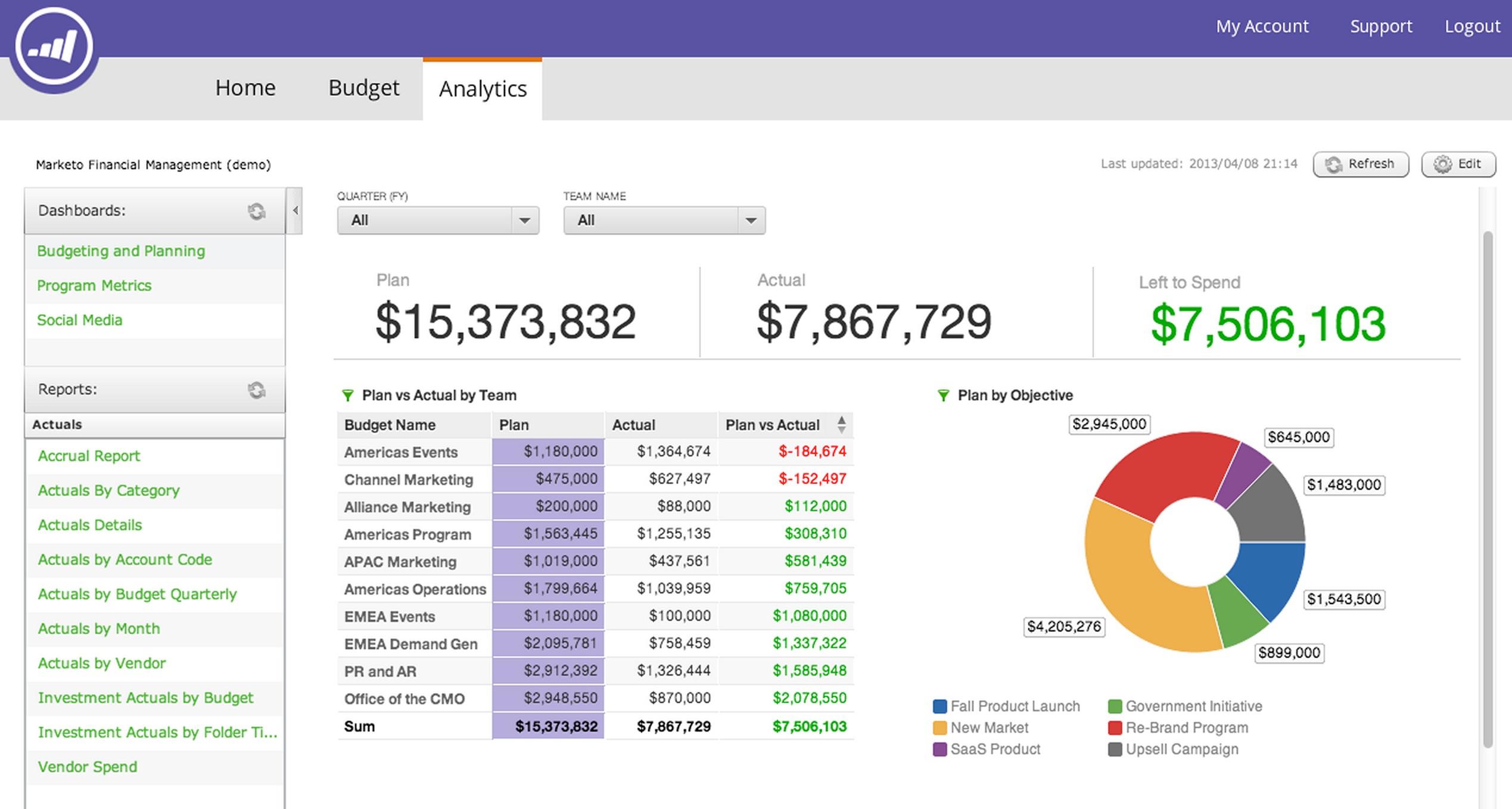 Rating: 4.1/5 (G2)
Key Features:
Customization: Personalized and customizable solutions for your marketing campaign.
Landing page builder: Drag-and-drop interface and pre-designed templates make it easy to create landing pages with data capture forms and active lead profiling.
Lead management: Efficient and effective management of leads through the platform's lead nurturing and scoring capabilities.
Marketo is a powerful marketing automation platform that enables companies to create personalized customer experiences throughout their journey. It offers many features to help marketing teams streamline their processes, such as lead management, email automation, and social media marketing.
Compared to HubSpot, Marketo offers a more sophisticated marketing automation solution best suited for mid-to-large-sized organizations with complex marketing needs. Marketo syncs with top CRMs such as Salesforce, allowing seamless integration and improved efficiency.
Marketing Cloud Account Engagement (Pardot)
Rating: 4/5 (G2)
Key Features:
Real-time alerts: Notify sales reps and give them complete visibility into prospect engagement.
ABM: Get started with account-based marketing and align sales and marketing goals.
Robust analytics: Use predictive analytics as part of the premium plan.
Pardot is a marketing automation platform with a strong focus on sales-marketing alignment. As a powerful B2B marketing automation tool, Pardot facilitates lead management and customer journey workflows to engage prospects and customers better.
While HubSpot is known for being user-friendly and affordable for organizations of all sizes, Pardot is a higher-priced but more sophisticated tool with advanced B2B marketing and account-based engagement capabilities.
Get Started with Teamgate Today!
In conclusion, while HubSpot is a popular CRM, it may not be the best fit for every business. As discussed, many HubSpot alternatives are available, each with unique features and benefits.
Teamgate is an excellent option for businesses seeking powerful customer relationship management software that is user-friendly and affordable. With Teamgate, companies can automate their sales and marketing processes while enjoying excellent customer support.
Request a demo today and see how to take your business to the next level with Teamgate.
FAQs
Q: What is HubSpot?
A: HubSpot is a cloud-based marketing, sales, and customer service platform that provides tools to help businesses optimize customer acquisition, engagement, and retention. It offers features for lead tracking, reporting, pipeline management, and company insights.
Q: What are the pros of using HubSpot?
A: The pros of using HubSpot include its complete suite of products, intuitive tools, and the option to start using it for free. HubSpot is widely used by businesses of all sizes to manage their customer relationships effectively.
Q: What are the cons of using HubSpot?
A: The cons of using HubSpot include limited customization options for specific industries, the potential for overwhelming users with its wide range of options, and the potential for high costs, especially for organizations that require advanced features and add-ons.
Q: What are the key features of Teamgate?
A: Teamgate offers features such as email marketing integration, smart dialer for faster lead outreach, leads management with precise segmentation, and integration with HubSpot to streamline tasks.
Q: What sets Teamgate apart from other HubSpot alternatives?
A: Teamgate stands out for its user-friendly interface, powerful features, affordability, and excellent customer support. It offers automation for sales and marketing processes and provides insights and reports to make data-driven decisions.