You can drive a Rolls Royce to get you from A to B, but that's not really an option for most people.
Sales CRM software comes with the same kind of thinking; is the best necessarily the solution that's right for your personal needs? Will it do what you want it to do? And, will it take you where you want to go?
Salesforce is undoubtedly the CRM market leader, but they're not the answer for everyone – especially if it's your first CRM.
Security is of paramount importance in the search for a CRM which is capable of managing the core of your business; your sales process. Try to keep in mind at all times the importance of security as a major factor in your choice.
Together with stringent security features, simplicity, usability, price, and ease of implementation are among the other most important deciding factors for you to keep in mind.
So, let's ask ourselves, just what are the best Salesforce alternatives, and what do we need to consider most?
Why Salesforce is considered No. 1 CRM
One major factor to take into consideration is that data security is of paramount importance to CRM owners and users. Keep that in mind.
From the outset, Salesforce has placed data security on the highest of podiums. This attention to security is just one of the reasons why Salesforce has remained at the head of the pack for so long.
There are quite literally thousands of CRMs on the market – it's not an easy choice, right? – but so few of them pay attention to the issue of security and your organisation's data protection. That's just not right; after all, your sales data is the lifeblood of your business.
Despite the complexity and precision of the Salesforce security features – allowing CRM owners to critically decide who may or may not have access to data – the CRM security features are easy to navigate and customise as needed. This saves you a lot of valuable time and effort when it comes to managing your data protection strategy.
Salesforce also has the assistance of a multitude of external features, tools, and add-ons to make system management and administration as straightforward as possible. HubSpot, for example, does not come equipped with such features.
That's why it's vital to thoroughly examine, and test-drive the CRMs which offer the features which appeal most to your sales process. Plus, that's why we've tried to include the security status – along with other criteria – of each of the Salesforce alternatives we've looked at.
To help you with the process we've compiled a rough guide to the 6 best Salesforce alternatives on the market.
***
Salesforce
But first, let's take a look at the number one.
Salesforce gives your sales team the power of mobility; online, in the office, or on the road, the CRM can go where your sales personnel need it. Whether iOS or Android the Salesforce app gives your team the most up-to-date information, plus the ability to view the latest and most important information as required. With the ability to add a vast array of additional tools, features, integrations and extensions your mobile app is as flexible as you need it to be.
Salesforce integrates with the most popular sales and business aids such as; Zendesk, Zuora FinancialForce ERP, TeamSupport, Desk.com, LeadExec, Ambassador, and many more.
With your information being constantly renewed and updated Salesforce gives up-to-date analysis, sales reports, and forecasts, allowing you to adapt and react to real sales situations, making the necessary course corrections as needed.
Some of the most complimented Salesforce features are its ability to provide workflow insights, dashboards, real-time pipeline views, smart contact management, and intuitive analytics.
Additionally, customers benefit from dedicated phone and email support, plus, new users have the opportunity to avail of comprehensive training modules.
What you get with Salesforce CRM
Really get to know your customers with powerful contact management capabilities. Keep track of all your customers, know your key contacts, view their activity history, see all customer communications and keep abreast of internal account conversations.

Salesforce gives you the power to view your most impactful marketing strategies and campaigns, and identify the source of your best leads. Insightful lead management lets your sales team target the most lucrative leads and close deals quicker.

With a detailed overview of your entire sales pipeline, easily view and inspect every element, such as; the volume of leads, conversation rates and ratios. This holistic view allows Salesforce users to keep up-to-date with the complete sales process.

Salesforce mobility lets you take your sales office with you, wherever you go.

With seamless connectivity and syncing from email to contacts, tasks, events, and your to-do list, the Salesforce email tracking software keeps you up to date with a host of great insights.

Smart workflow gives you the ability to create and manage all your business process and tasks with simplicity and ease of interaction.

Simplify file and account collaboration, publish great content, and track your results intelligently with Salesforce. Plus, search for the information you need in your database, from wherever you want, and whenever you want.
Caution:
It's true that Salesforce CRM comes with the latest and smartest features, integrations, and technology, plus it also has multiple pricing options. But are they designed for Small/Medium Business models? If you're the owner of a SMB and your heart says Rolls Royce but your budget says bicycle, Salesforce is probably not for you.
But, the good news is that not all CRMs are the same. The CRM you want, and can afford is out there, you just need to choose the one that suits your business model best. To make the task easier we're going to provide you with a selection of the more affordable options, and you won't even have to sacrifice any powerful features or advanced technology for the sake of price.
Security Standard
Transport Layer Security (TLS) version 1.0 or higher for browser encryption. As technology continues to advance, so do the threats facing digital security. Salesforce continues to prove itself as the leader in cloud data security so that users don't have to worry about the safety of their most valuable data. The free Salesforce Authenticator app is also available to customers to further enhance their data security using two-factor authentication (2FA). 
Pricing: 
Salesforce
Essentials: $25 / month
Professional: $75 / month
Enterprise: $150 / month
Unlimited: $300 / month
Teamgate CRM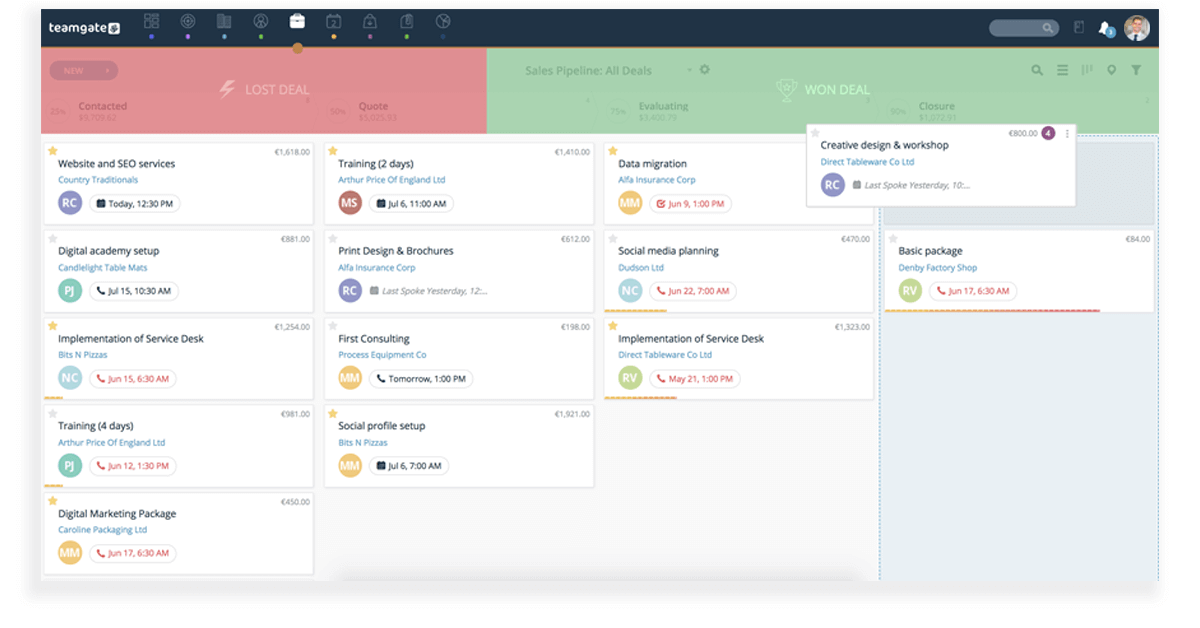 Making great impressions and winning many fans across the world of business and sales, Teamgate is a five-year-old dynamic company based in Lithuania, and now with new offices in London, UK.
The Teamgate sales CRM was awarded the Number One spot in the Capterra Top 20 Most User-Friendly CRM Software list. With over 100 well-trusted reviews on Capterra – the business software expert – Teamgate earned itself an overall ranking of 5/5, along with well-deserved recommendations for ease-of-use, and best customer service. So Teamgate could be one of the best Salesforce alternatives.
Teamgate gives you flexible functionality through an array of useful integrations, such as MailChimp, WordPress, LinkedIn, Slack, G Suite, and many more.
Teamgate is a simplified and easy-to-use CRM which helps sales teams manage every stage of their complete sales process, saving huge chunks of sales time.
From lead generation, campaign monitoring, email marketing, to lead import, data and pipeline management, communications, and customer support, Teamgate simplifies the whole sales journey.
The CRMs analytical tools offer simple, and easily understandable sales reports and insights, and help sales managers monitor sales rep performance across a host of different criteria.
Why Salesforce Alternative – Teamgate?
Simple but powerful lead management tools and features – including simplified task management, time-saving lead scoring capabilities, product management, and is fully scalable to grow as your business grows.

Teamgate comes with strong and insightful analytics and reports creation capabilities across individual stages of the sales pipeline, or across the entire sales process. Create sales reports instantly and get the real picture of the health of your sales and your business.

In comparison to other CRMs on the market, Teamgate gives you a multitude of powerful time-saving and productive tools and features, with a range of price plans to suit every budget.

Constantly improving integrations – such as; MailChimp, Zapier, LinkedIn Shuttle, FreshDesk, SmartDialer, Quickbooks, and many more – add the power you need to drive your sales process forward faster.

For new users, Teamgate is easy to use, quick to implement, has no requirement for technical know-how, great customer service, and leads the CRM market for user-friendliness and usability (according to Capterra).
Security Standard
Data security comes as a built-in with Teamgate. In order to assure a secure connection between the client's web browser, or other applications, and Teamgate CRM, Teamgate uses the highest SSL class protocols and security keys, which meet an A or A+ grading scale. Teamgate also uses Transport Layer Security (TLS) TLS 1.2 with a preferred AES 256 bit algorithm in CBC mode and 2048-bit server key length with most modern browsers. 
Pricing
| | |
| --- | --- |
| Salesforce | Teamgate |
| Essentials: $25 / month | Starter: $9 / month |
| Professional: $75 / month | Professional: $22 / month |
| Enterprise: $150 / month | Enterprise: $65 / month |
| Unlimited: $300 / month | |
Base CRM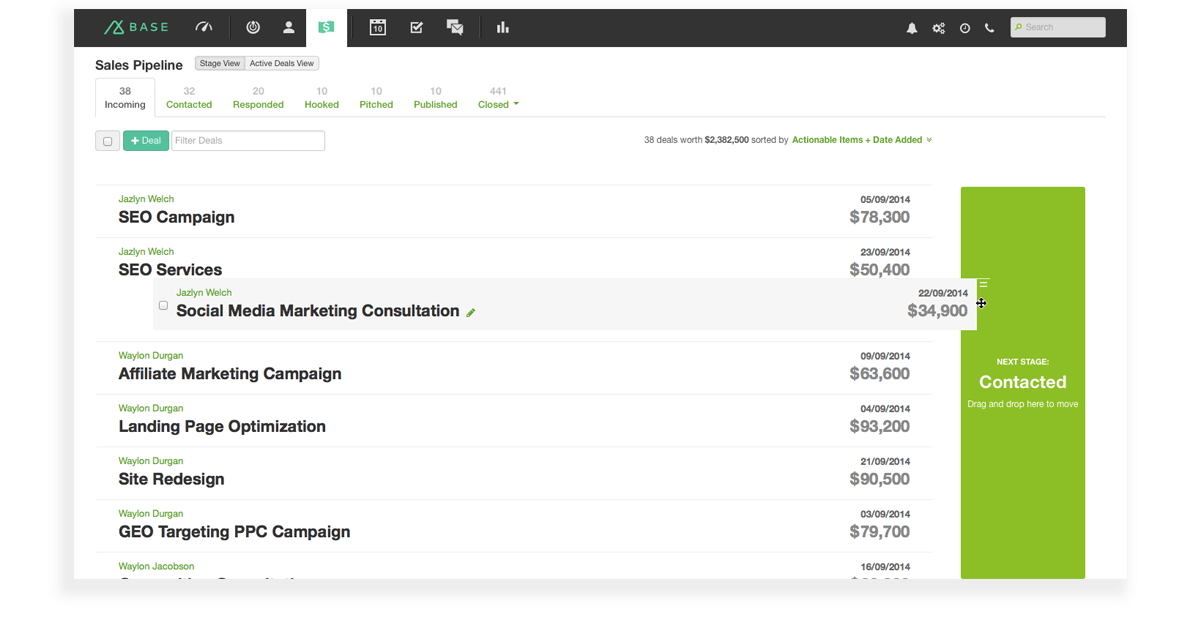 A fully integrated sales CRM, Base is intended at giving sales managers the power they need to create the measurable insights required to fine-tune the sales process. Sales reps also benefit greatly from its functionality helping them to sell more, faster.
Base's mobile app – one of the first on the market – offers mobility to sales team on the go, letting them get on with managing their sales pipeline using smart integrations, and all packaged within a user-friendly interface.
Base is also proud of its ability to be easily implemented by first-time, or new CRM users.
Why Salesforce Alternative – Base?
Base helps you identify and manage your lead priorities.

The simplistic and straightforward dashboard allows for easy viewing and easy interpretation of results, and analysis.

Multiple integrations right across the entire CRM process.

Keep up to date with all aspects of your sales process using Base's intuitive reporting and features capabilities.

Mobile app to keep your sales team connected and on-point with all sales developments.

Base gives you 'Apollo', a tool which uses multiple reference point analyses to help identify sales strengths and weaknesses.
Security standard
Base CRM uses 256-Bit SSL encryption to protect your data, the same level of encryption used by financial institutions to secure online banking transactions.
Pricing
| | |
| --- | --- |
| Salesforce | Base CRM |
| Essentials: $25 / month | Starter: $45 / month |
| Professional: $75 / month | Professional: $95 / month |
| Enterprise: $150 / month | Enterprise: $145 / month |
| Unlimited: $300 / month | |
ZoHo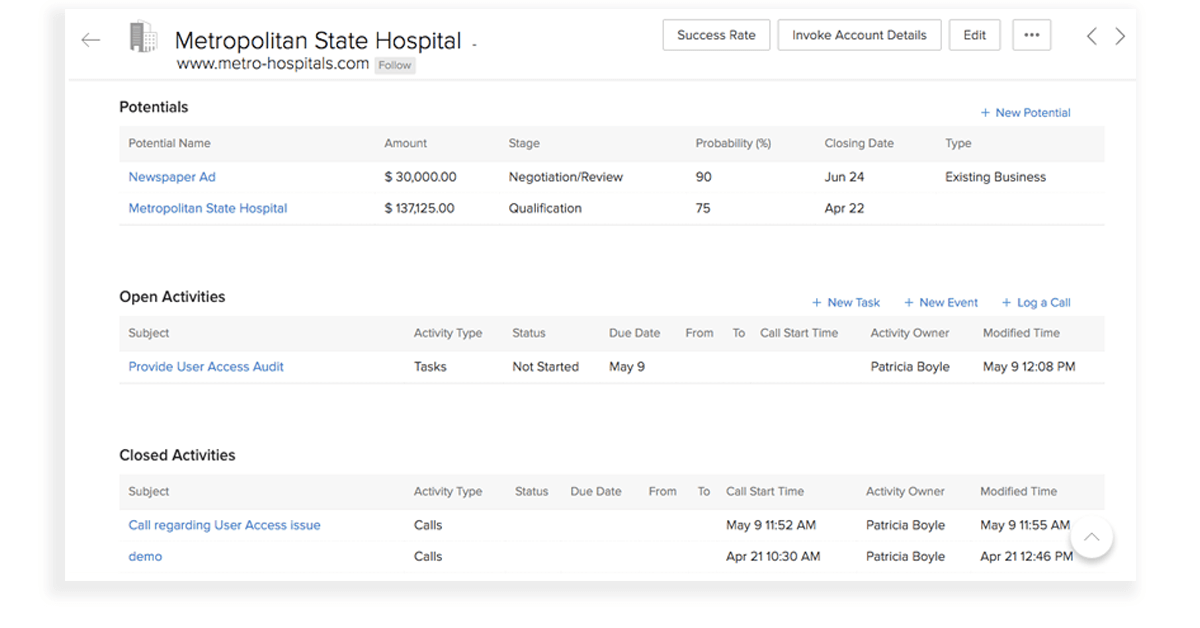 Zoho already comes as a well-known CRM solution across the world of sales. Its smart design is based on the ability to attract, nurture and retain a following of loyal customers.
Some of ZoHo's best attributes are its lead and contact management capabilities, its multiple easy features to run a smooth sales pipeline, and even gives you the power to manage your purchases. With everything you need in one easy-to-navigate screen, the interface is even enjoyed by sales teams new to CRM software. Zoho is fully customisable to act and feel in the manner which suits your needs.
Why Salesforce Alternative – ZoHo?
ZoHo gives sales teams the power to fully automate a large portion of daily sales tasks.

Wouldn't it be good if you knew when a lead is browsing your website or engaging with your product right across multiple online outlets? SalesSignals offers you just that option, to identify new leads who show an interest in your product or business on the web, email, and social media platforms.

Using ultra-modern technology, such as AI, ZoHo's 'Zia' has the ability to learn about your process, your actions and your people, and offers its insights into deals being closed, conversion rates, trends and other recurring tasks.

ZoHo provides all the reports, analysis and sales forecasts which your sales department need to create the ideal sales process.
Security Standard
Zoho CRM uses one of the strongest and most robust methods – AES – to encrypt and decrypt your sensitive data. Apart from protecting data during transit, Zoho CRM secures data stored in servers using the AES-256 protocol and prevents data from being leaked or lost.
Pricing
| | |
| --- | --- |
| Salesforce | ZoHo |
| Essentials: $25 / month | Standard: $12 / month |
| Professional: $75 / month | Professional: $20 / month |
| Enterprise: $150 / month | Enterprise: $35 / month |
| Unlimited: $300 / month | Ultimate: $100 / month |
Pipedrive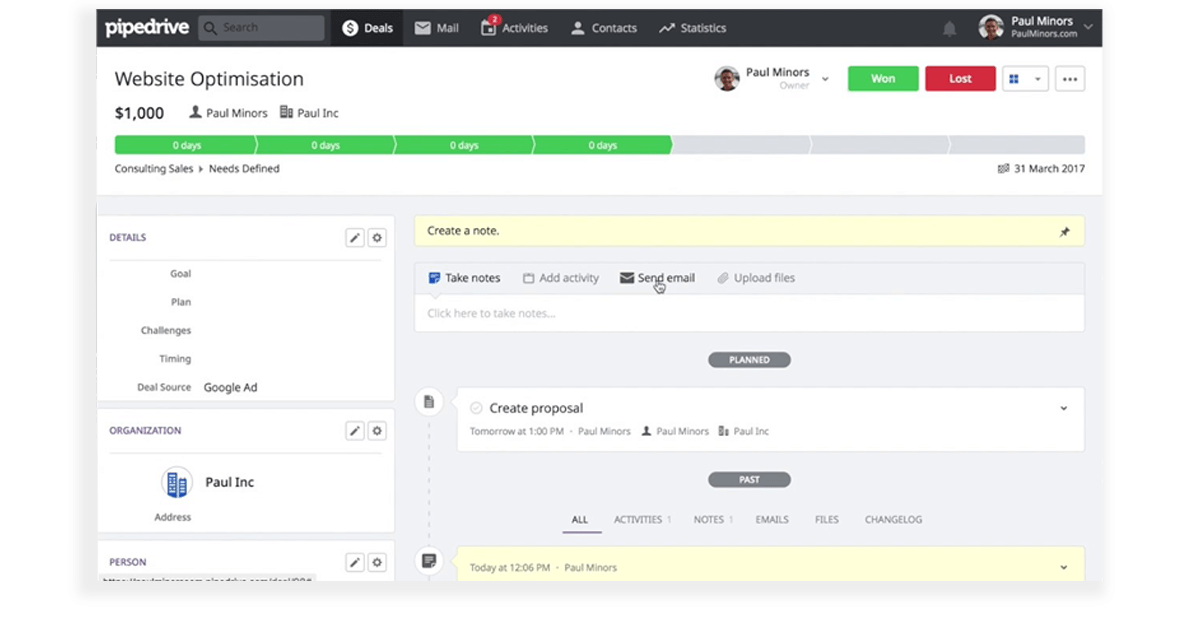 Pipedrive is regarded as a top-end sales pipeline management solution, designed in tandem by sales professionals and technology gurus. Pipedrive comes packed with a wide range of tools, features and integrations to help you winkle out even the longest or trickiest sales process.
The software – which is both versatile and mobile – helps sales teams identify, prioritise and manage leads efficiently, while also managing every stage of their journey through the sales pipeline.
Integrations like Google Contacts and Google Calendar, and a host of other third-party apps, helps you automatically manage the whole sales process smarter.
Pipedrive is easy and quick to set up and onboard. With free trial options and flexible pricing plans, Pipedrive has built a large worldwide fan-base.
Why Salesforce Alternative – Pipedrive?
Pipedrive actively helps you create a smooth and seamless sales management process.

Armed with a large array of smart tools and features to drive your sales forward, Pipedrive helps you to close deals smarter, cleaner, and faster.

Any software that helps you gather leads easily, and even automatically, has to be considered a bonus to your sales process

With great analysis, statistics, and reporting attributes, Pipedrive can help keep your sales moving in the right direction at all times. Instantly know the health of your sales process, and act on any issues faster, and smarter.

Simple, straightforward, and logical sales pipeline management in a nutshell

Seamless email integration to constantly drive your sales efforts forward

The whole process of lead generation and collection simplified and automated

A broad spectrum of insightful reporting features
Security standard
Pipedrive:
SOC 2 Certified Service. 
Pricing
| | |
| --- | --- |
| Salesforce | Pipedrive |
| Essentials: $25 / month | Silver: $15 / month |
| Professional: $75 / month | Gold: $28 / month |
| Enterprise: $150 / month | Platinum: $56 / month |
| Unlimited: $300 / month | |
Hubspot CRM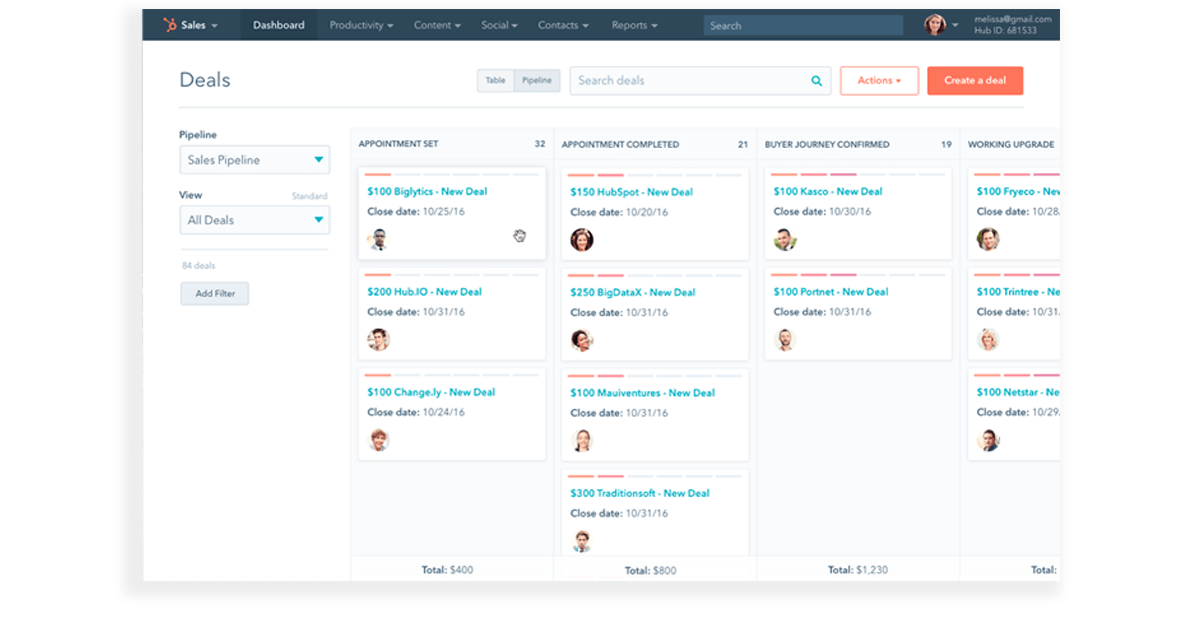 HubSpot CRM is geared towards sales teams who want to implement CRM software without too much change to their existing process. As a free solution, HubSpot gives you the basics of CRM functionality without fuss and complexity. Being a Google certified partner holds advantages for startups and SMOs.
Why Salesforce Alternative – Hubspot?
HubSpot comes as a free CRM application

It offers a straightforward but adaptable process

Several of its functions can be automated

It can be employed directly across your sales process
The sales pipeline is uncluttered and simplified

It offers useful automation features – it can track customer interactions automatically – via email, across social media, or in a call.

HubSpot CRM includes free tools for live chat, team email, and bots, plus a universal inbox that gives sales, marketing, and customer service teams one central place to view, manage, and reply to all conversations — regardless of their source.
What's not so good?
The basic HubSpot CRM ships as free, however advanced features, such as; advanced reporting and marketing automation, are paid-for extras.

The extras and add-ons – marketing hub, sales hub, and service hub – do not come cheap. Free versions of these are extremely limited in their functionality.
Security Standard
Sessions between you and your portal are always protected with top end in-transit encryption, advanced TLS (1.0, 1.1, and 1.2) protocols, and 2,048-bit keys.
Pricing
| | |
| --- | --- |
| Salesforce | Insightly |
| Essentials: $25 / month | Free: $0 / month |
| Professional: $75 / month | Sales Hub: $0-400 / month |
| Enterprise: $150 / month | Marketing Hub: $0-2,400 / month |
| Unlimited: $300 / month | Service Hub: from $400 / month |
Insightly CRM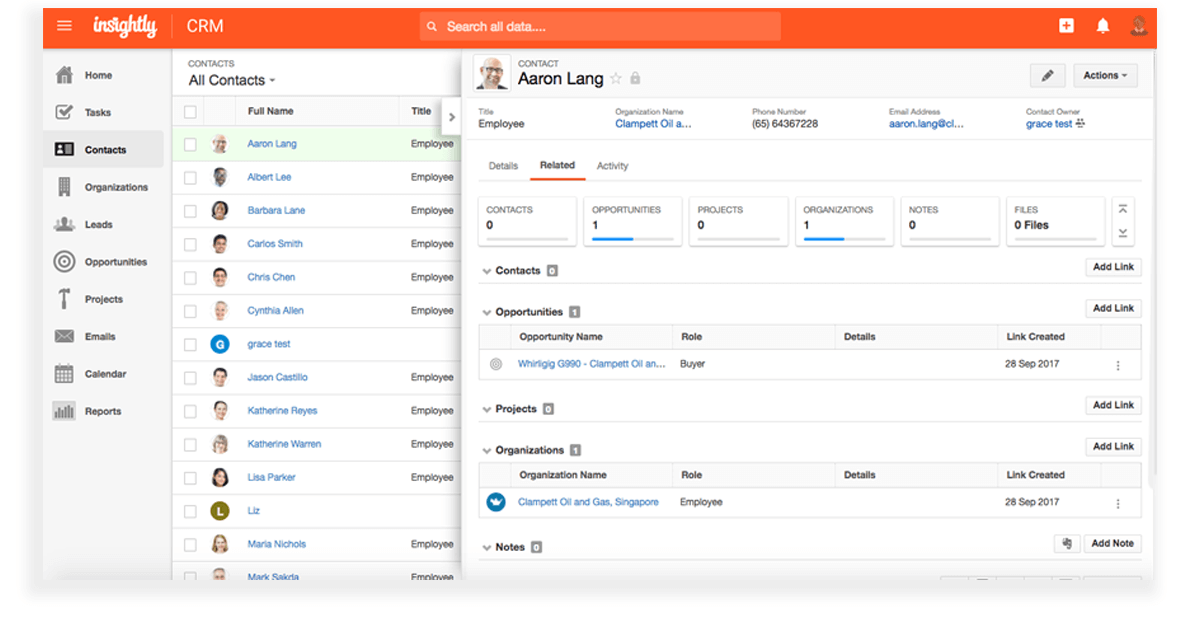 Along with strong and mobile CRM functionality, Insightly – as a well-priced alternative to many other CRMs – offers full project management functionality, a feature lacking in Salesforce without the acquisition of external third-party apps and integrations. This feature adds extra functionality to an already smart and solid sales CRM.
As an addition to good contact management features and powerful automation tools, the project management aspect frees up valuable sales time.
Why Salesforce Alternative – Insightly?
Insightly boasts superior contact management abilities – which include a unique relationship graph engine which captures and displays links and connections between your contacts, companies, organisations and shared business relationships, and acts like an additional and valuable networking resource. This relationship graph is constructed when Gmail or Microsoft emails are saved to Insightly.

Insightly comes as a mobile app for both Android and iOS.

As an addition to the full CRM Insightly offers a free lite version for small businesses, but which is limited to only two users.

Insightly also gives you a seamless integration with Outlook and Gmail
Security Standard
Insightly is SSAE 16 SOC2 Type 2 and EU-U.S. Privacy Shield compliant
Pricing
| | |
| --- | --- |
| Salesforce | Insightly |
| Essentials: $25 / month | Plus: $29 / month |
| Professional: $75 / month | Professional: $49 / month |
| Enterprise: $150 / month | Enterprise: $99 / month |
| Unlimited: $300 / month | |
There's a lot to consider, but take your time and you'll get it right
Like we said at the beginning, a Rolls Royce will get you from A to B, but it might not be the best way to get you there.
Think of your CRM as the vehicle that will get you where you want to go; think of the terrain you must cross, think of the distance you have to travel, think of your security, and think of your vehicle's ability to adapt to ever-changing conditions.
Many sales CRMs make claims and boast about functionality and superiority, but if you take time to check under the hood of their promises, you might just get a shock. While everything might look good on paper, ask yourself this; will you have to pay for the extras that allow you to travel the extra mile and every extra mile after that?
When comparing CRMs – especially for the first time – remember the four main factors to consider:
Security

Simplicity

Usability

Ease of Implementation
Don't be fooled by the bells and whistles on offer, every business is different and your CRM choice should suit your unique business challenges rather than being a generic cure-all.
To show you how a really great CRM should look and function, why not sign up for a free Teamgate CRM demonstration today.
GET READY TO OWN YOUR WORKDAY
with the most user-friendly CRM on the market.
Painless setup, no credit card required