Have you heard of the Rule of 40? It states that for a SaaS business to be healthy, it must have a combined growth rate and margin of at least 40%. For some small SaaS companies or those just getting started, this might seem like an impossible rate to reach.
Rest assured, meeting the Rule of 40 and scaling your business is possible when you equip yourself with the right tools, including a CRM for SaaS.
A SaaS CRM can support you in retaining existing subscribers and nurturing critical leads, so you can focus on accelerating growth. Below, we list the top ten SaaS CRM platforms so you can choose the best one for you.
Key Takeaways
Retention and churn are critical metrics for SaaS. A CRM can track these metrics and offer tools that can help improve retention and minimize churn.
SaaS CRMs automatically store customer data and generate insightful reports that help you make data-driven decisions.
The best CRM for SaaS companies helps build effective workflows, run personalized marketing campaigns, and communicate with customers via multiple channels.
When searching for a CRM, ensure its feature set meets your needs, that it's within your budget, and that it offers best-in-class support.
Some of the top SaaS CRM platforms on the market today include Teamgate, Close, Microsoft Dynamics 365, HubSpot CRM, Zoho CRM, SAP Service Cloud, Zendesk Sell, Pipedrive, SugarCRM, and Nimble.
Contents
What Is CRM for SaaS?
How to Evaluate CRM for SaaS Companies
Teamgate
Close
Microsoft Dynamics 365
HubSpot CRM
Zoho CRM
SAP Service Cloud
Zendesk Sell
Pipedrive
SugarCRM
Nimble
What Is CRM for SaaS?
A SaaS (customer relationship management) CRM tool helps you build and nurture a pipeline of high-quality leads, collaborate with your team, and streamline internal processes.
CRMs are useful throughout the customer lifecycle, especially for SaaS companies. For example, you can configure the CRM to auto-create a customer profile when someone requests a quote using a web form.
From here on, you can track this lead and continue to nurture your relationship. At the end of the quarter or year, see which strategies worked the best for converting leads and optimize your strategy accordingly.
When a paying customer raises a support ticket, you see it in the customer's profile on the CRM. You can track the status of these tickets to ensure all customers receive timely support. Consistently nurturing customer relationships this way using a CRM can help increase ARR and retention rates.
How to Evaluate CRM for SaaS Companies
To find the best SaaS CRM for your needs, you must spend some time evaluating the various options. To simplify this process, there are five key factors to consider: feature set, how easy the platform is to use, integrations, customer support options, and configuration options.
SaaS-Specific Features
CRMs typically have extensive feature sets. However, you want to focus on and compare features relevant to your SaaS business. For example, look for extensive analytics and reporting so you can track key SaaS metrics. You'll also want features that support winning new customers, such as pipeline and lead management.
User-Friendliness
SaaS teams work in a fast-paced environment. Spending too much time walking new hires through the CRM is time-consuming and often unfeasible. Look for a CRM with an intuitive, easy-to-use interface.
Integrations
Integrations allow hassle-free data transfer and workflow automation. For example, a CRM that integrates with Slack allows for sending real-time notifications for support tickets to the support staff's Slack channel. Look for a CRM that integrates with the other tools in your tech stack.
Customer Support
The best CRM companies respond to support requests quickly and offer support via multiple channels. Using one of these CRMs ensures you never have to wait too long for support to respond.
Configuration Options
While many CRMs offer a similar feature set, every SaaS business has unique needs. That's why configuration options are vital. Configuration options enable you to tailor the CRM's features to fit your specific needs.
1. Teamgate
Rating: 4.4/5 (G2)
Key Features:
Teamgate is an easy-to-use, highly configurable, and affordable CRM for SaaS companies. The CRM helps you improve conversions, retain paying customers, and monitor real-time sales data.
You can track each sale alongside the pipeline stages so you never forget a potential subscriber. The rich customer data in the Teamgate CRM helps create an ideal customer profile. This enables you to run laser-focused marketing campaigns and increase your MRR.
Teamgate integrates with various marketing tools, such as email marketing platforms like Mailchimp and other inbound lead sources. When leads roll in via these sources, Teamgate automatically adds them to the CRM, evaluates them, and assigns them a score so you can prioritize leads.
With Teamgate, you have everything you need to capture, convert, and support leads throughout their entire lifecycle, all in one place. Teamgate plans start at $9 per user/month and go up to $65 per user/month for enterprise-level features and all-inclusive customer support and onboarding.
2. Close
Rating: 4.6/5 (G2)
Key Features:
Power Dialer
Integrations for Zapier, Zoom, and more
Email marketing features like bulk emails and HTML customization
Custom opportunity pipelines based on demographics and products
Close CRM is made for small and medium-sized SaaS sales teams that rely heavily on outreach and direct interactions. The CRM can track SMS campaigns, calls, emails, and more.
It has a built-in caller app that helps scale outreach via calls; the dialer can help you make hundreds of calls daily. The predictive dialer also streamlines inbound calls by auto-routing them to an available sales rep.
Close is a simple CRM that may not include more advanced features such as marketing automation or forecasting. Plans start at $99 per month when billed annually. You can add more users for $29 per user/month.
3. Microsoft Dynamics 365
Rating: 3.8/5 (G2)
Key Features:
Natively embedded Power BI and Cortana intelligence
Customizable reports and dashboards
Automation capabilities
Web browser functionality and apps for Windows, iOS, and Android
Microsoft Dynamics 365 is perfect for businesses that use other tools in the Microsoft 365 ecosystem. It's a full suite of tools, including those for sales, customer data, project management, and marketing.
The platform has other built-in sales features like LinkedIn Sales Navigator, which is a great plus if you already use LinkedIn for outreach. Plus, Microsoft Dynamics 365 offers flexible architecture and deployment options that allow you to customize the CRM to fit your specific needs.
The pricing starts at $70 per user/month and goes up from there, depending on your requirements.
4. HubSpot CRM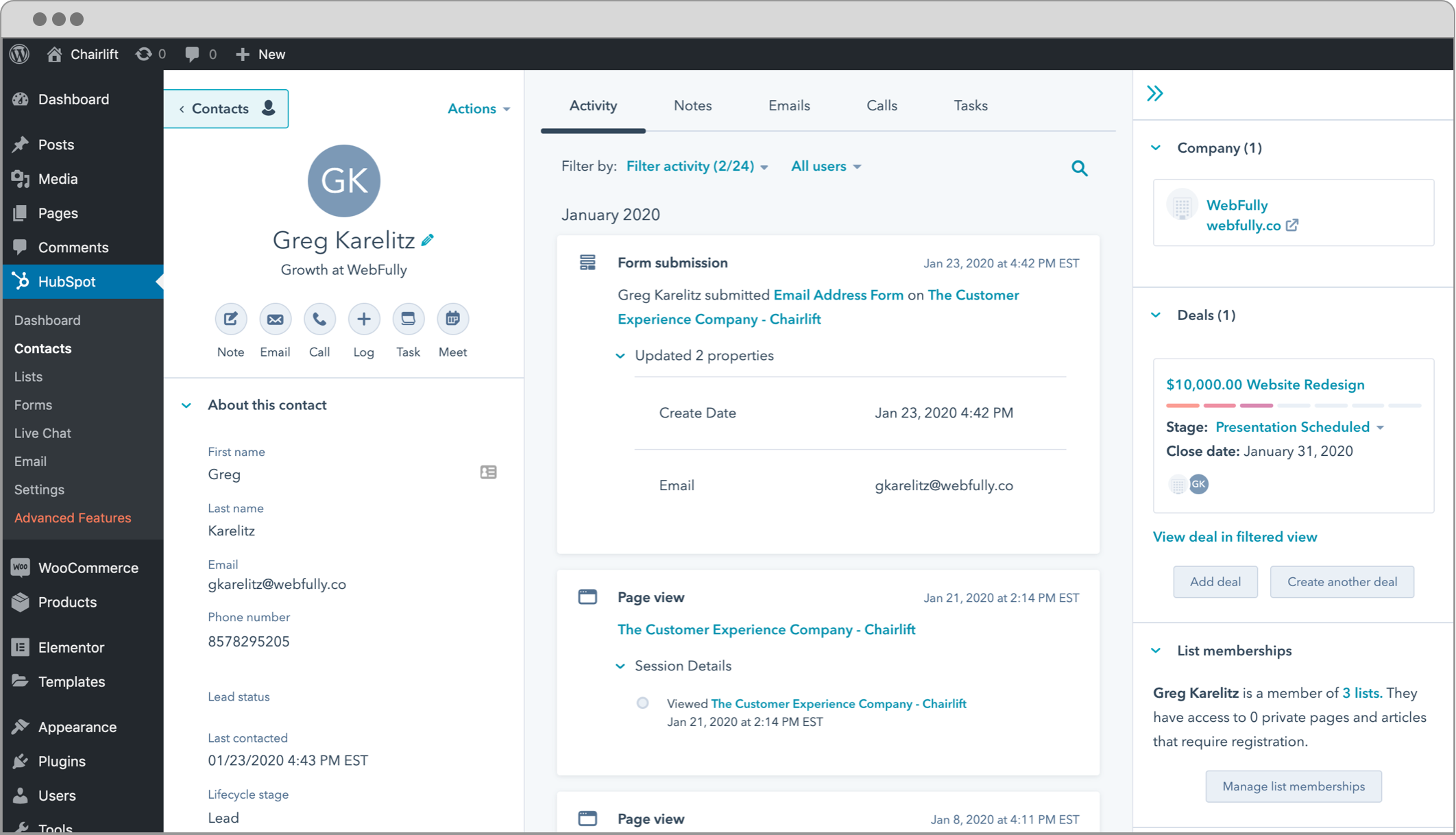 Rating: 4.5/5 (Capterra)
Key Features:
Click-to-call
Rich analytics
Robust segmentation tools
Email tracking and notifications
HubSpot CRM is one of the most popular CRMs on the market. It integrates with all the popular business apps and offers an extensive feature set. HubSpot offers a free, limited CRM or you can bundle various hubs, including the Marketing Hub, Sales Hub, and more.
The platform offers tracking and quota management tools that help track your team's performance. The free email templates in HubSpot allow you to quickly respond to frequently asked questions via email.
The native sales pipeline management tools allow sales reps to track lead status and access customer data, giving them the confidence to interact with leads.
HubSpot offers a free plan with limited features. Paid plans vary depending on your specific needs.
5. Zoho CRM
Rating: 4/5 (G2)
Key Features:
AI-powered chatbot
Predictive sales
Secure digital signs with Zoho Sign
Omnichannel support
Zoho CRM is affordable and scalable, making it an excellent pick for small SaaS companies. You get all the essential features, including analytics and reporting, workflow management, and sales pipeline management. The opportunity management tools enable you to track customers and leads throughout the lifecycle.
You also get access to Zoho's app library. The library has useful apps like Zoho Sign, an app that helps you, your team, and your customers securely sign digital documents.
Pricing starts at $14 per user/month, billed annually.
6. SAP Service Cloud
Rating: 4.5/5 (G2)
Key Features:
AI and machine learning-powered intelligent insights
Audience segmentation
Multi-channel marketing campaigns
Comprehensive customer profiles
SAP Service Cloud is a popular CRM software and part of the SAP Customer Experience Solutions suite. It includes a robust feature set that supports you in delivering excellent customer experiences. For example, the tool offers built-in agent desktops and customer self-service, perfect for SaaS companies.
The platform offers extensive contact management features. For example, SAP Service Cloud helps collect information on customer names, details, communication preferences, and more. The CRM also builds holistic customer profiles. If you're selling via third parties, you can use SAP Service Cloud to handle partner lifecycle management.
SAP Service Cloud offers custom quotes only, so you'll need to contact the sales team.
7. Zendesk Sell
Rating: 4.2/5 (G2)
Key Features:
Customizable sales pipeline and sales proposal templates
Easy onboarding and team management
Integrations for PandaDoc, Google Drive, Dropbox, Xero, and more
Advanced analytics and custom dashboards
Zendesk Sell is a user-friendly CRM that helps streamline the sales process. The platform has built-in automation tools. These help save time on administrative tasks, allowing salespeople to focus on selling.
Zendesk Sell also has contact management, email marketing, and sales forecasting features. The CRM also offers real-time visual reporting, which helps you make data-driven decisions on the go.
Plans start at $19 per user/month when billed annually. The platform also offers a 14-day free trial.
8. Pipedrive
Rating: 4.2/5 (G2)
Key Features:
Custom stage capabilities and templates for the sales pipeline
Drag-and-drop interface to manage sales opportunities
Lead filtering and segmentation
Integrations for Zapier, Google Meet, Mailchimp, and more
Pipedrive CRM is built primarily to manage sales pipelines. It allows you to visualize sales opportunities and collaborate on sales with your team. The platform integrates with popular business apps like Dropbox, Google Meet, and more. You can import data, centralize contact data, send emails, and generate insightful sales reports.
Pipedrive's primary focus on sales pipeline management comes at a cost. It's not as scalable as other CRMs on the list. Plans start at $14.90 per user/month, billed annually. The platform also offers a 14-day free trial.
9. SugarCRM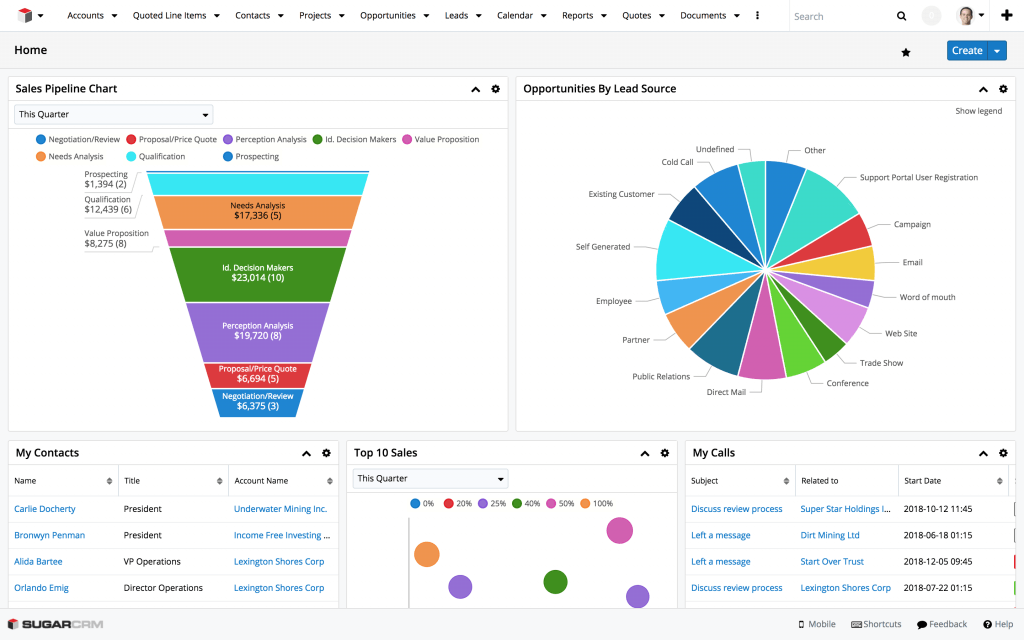 Rating: 3.8/5 (G2)
Key Features:
AI-powered data analysis
Drag-and-drop interface for creating marketing campaigns
Pre-designed templates for emails and landing pages
Omnichannel communication (email, phone, and chat)
SugarCRM, which includes Sugar Sell, Sugar Market, Sugar Serve, and Sugar Enterprise, offers AI-powered analytics that helps you make data-driven decisions. For example, it helps predict deal outcomes, allowing you to prioritize leads for maximum success.
The platform also offers great customization options. Developers can edit every module, portal, and report and also get access to an API.
While that level of customizability is great, it comes at the cost of user-friendliness. If you're looking for a simple, no-fuss solution, SugarCRM may not be best for you.
Pricing plans will depend on the product you choose. For example, Sugar Sell starts at $49 per user/month when billed annually.
10. Nimble
Rating: 4.5/5 (G2)
Key Features:
Sales pipeline management
Contact segmentation
Task management and workflows
Integrations for Zapier, QuickBooks, Mailchimp, and more
Nimble is a relationship-focused CRM for SaaS companies that want to truly nurture their customer relationships. The platform integrates with over 160 apps, which means importing customer data to Nimble is a quick and easy process. Plus, the platform has a built-in reminder system to ensure your team never forgets to reach out to leads at the right time.
Nimble also offers tools for email management and a template library. Pick a template and make edits to quickly send personalized emails to leads. The CRM offers workflow automation features too. For example, you can automate actions like sending messages, creating notes, and sending mobile or browser notifications.
Plans start at $24.90 per user/month, billed annually.
Use Teamgate to Supercharge Your Revenue
SaaS companies, especially young ones, need a CRM that balances features, ease of use, configuration capabilities, and affordability. Enter Teamgate.
Teamgate is an excellent CRM for SaaS companies. It's configurable to fit your needs without sacrificing usability. It includes an easy-to-use interface and an extensive feature set that helps collect and organize customer data, track the sales pipeline, and generate reports containing key metrics like conversions, revenue growth, and churn.
See how Teamgate can support you in scaling your SaaS business by requesting a demo today, or get started with a free 14-day trial.
FAQs: CRM For SaaS
Q: What is a CRM for small businesses?
A: A Customer Relationship Management (CRM) for small businesses is a software solution designed to manage customer relationships, nurture leads, handle sales pipelines, and facilitate communication with customers and prospects across various channels. It also includes built-in reporting and analytics to measure marketing and sales performance against customer acquisition and retention goals.
Q: Why should a small business consider investing in a CRM?
A: As small businesses grow, managing contacts and providing a personalized experience to each customer becomes challenging. A CRM helps to maintain consistent and tailored communication with both prospective and current customers. It also assists in contact and data management, general ease of use, and basic reporting, which are vital for maintaining high standards in customer relationships.
Q: What factors should small businesses consider when evaluating CRM options?
A: Small businesses should consider affordability, ease of use, and scalability when evaluating CRM options. They need effective tools that don't break the bank, are easy to learn and use, and can grow with the business. Paying attention to CRM solutions with tiered packages of features and valuable third-party integrations and add-ons is also important.
Q: What are some top-rated CRM systems for small businesses in 2023?
A: The top-rated CRM systems for small businesses in 2023 include Teamgate, Freshsales, Pipedrive, Bigin by Zoho CRM, HubSpot CRM, Salesmate.io, Less Annoying CRM, Keap, Copper, and Daylite. These CRM systems offer a wide range of features to suit the needs of small businesses.
Q: How does Teamgate benefit small businesses?
A: Teamgate is a leading small business sales CRM that offers extensive smart features without compromising ease of use or reasonable pricing. Its user-friendly interface, intelligent lead scoring, advanced filters, and relevant third-party integrations differentiate it from other CRMs. Plus, it allows small businesses to configure workflows to fit their needs without costly and cumbersome customization.