Pipedrive Alternatives
In the diverse ecosystem of CRM solutions, Pipedrive is a formidable entity but not without competition. For businesses contemplating the CRM landscape, understanding alternatives is vital for informed decision-making.
Teamgate
Teamgate is an intuitive, powerful and easy to use CRM. With a number of cost-effective subscription offerings combined with a very similar interface and ease of use, it's no wonder Teamgate is a very popular Pipedrive alternative. Offering all of the same popular comprehensive CRM features as well as in-depth, out-of-the-box sales dashboards and analytics; meaning your team will be onboarded and selling in no time.
Salesforce
Salesforce, a behemoth in the CRM domain, offers a comprehensive suite of features that cater to every conceivable need within sales, marketing, and customer service. With its layered architecture and expansive app marketplace, it's akin to a sprawling metropolis of CRM functionality. However, this complexity can be a double-edged sword; it offers limitless possibilities but demands a steep learning curve and a more substantial investment.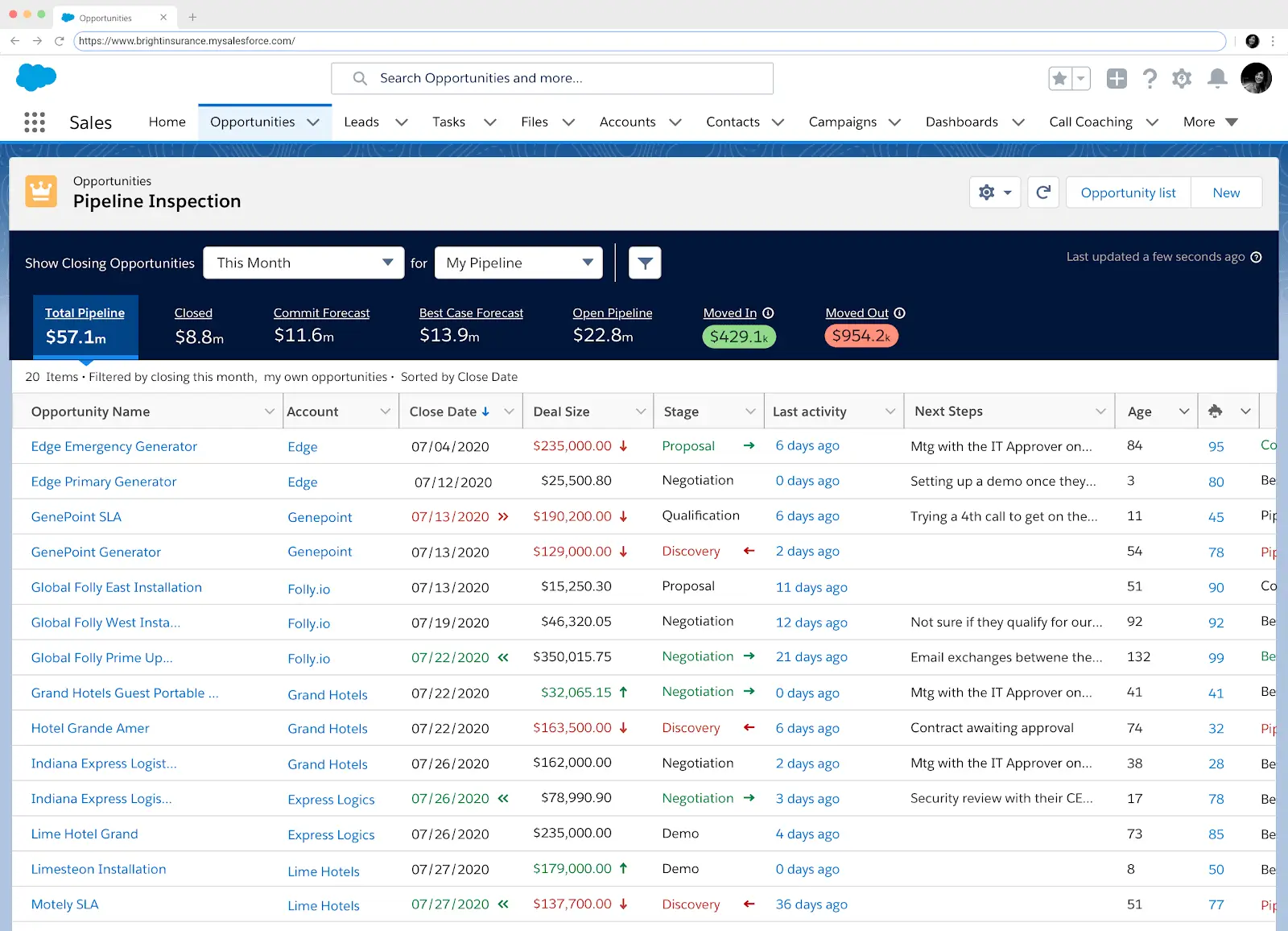 HubSpot CRM
HubSpot CRM is the beacon for inbound marketing-oriented businesses. It seamlessly blends CRM features with powerful marketing automation tools, offering a free tier that attracts small businesses looking to grow their operations. HubSpot CRM is ideal for those who prioritize content and customer journeys, though the cost escalates considerably as you scale and adopt more advanced marketing modules.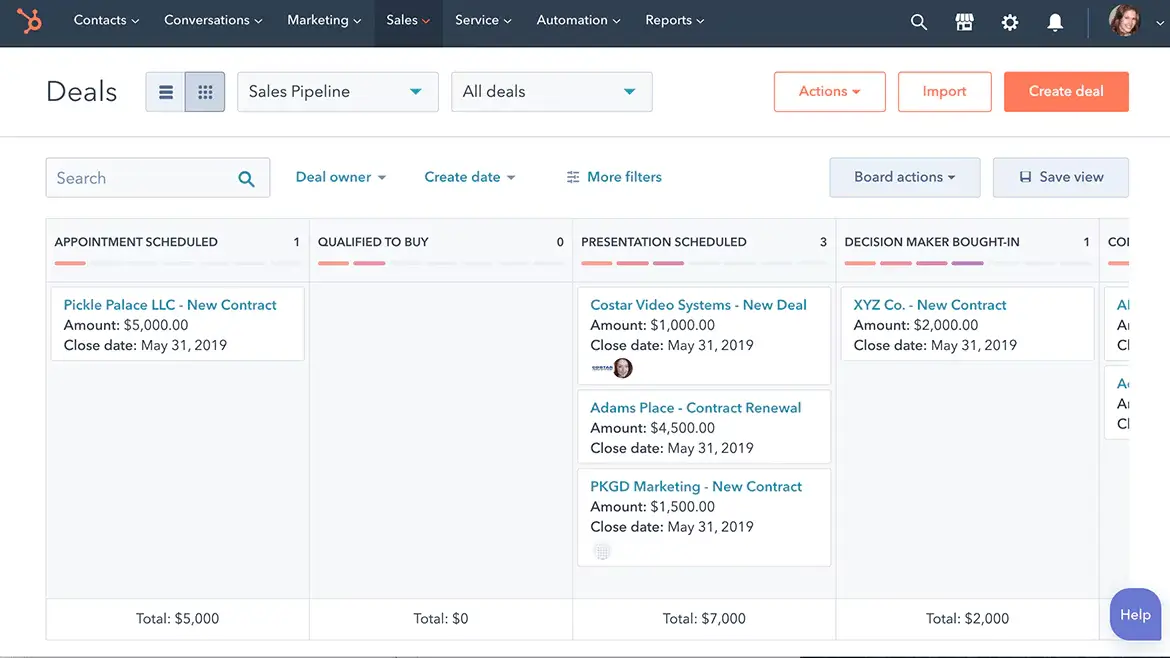 Zoho CRM
Zoho CRM is the chameleon of the CRM world, with an impressive ability to adapt to a variety of business sizes and sectors. Its affordability and flexibility make it a popular choice for SMEs. With Zoho CRM, businesses can enjoy a rich set of features without the financial burden typically associated with more established CRM names.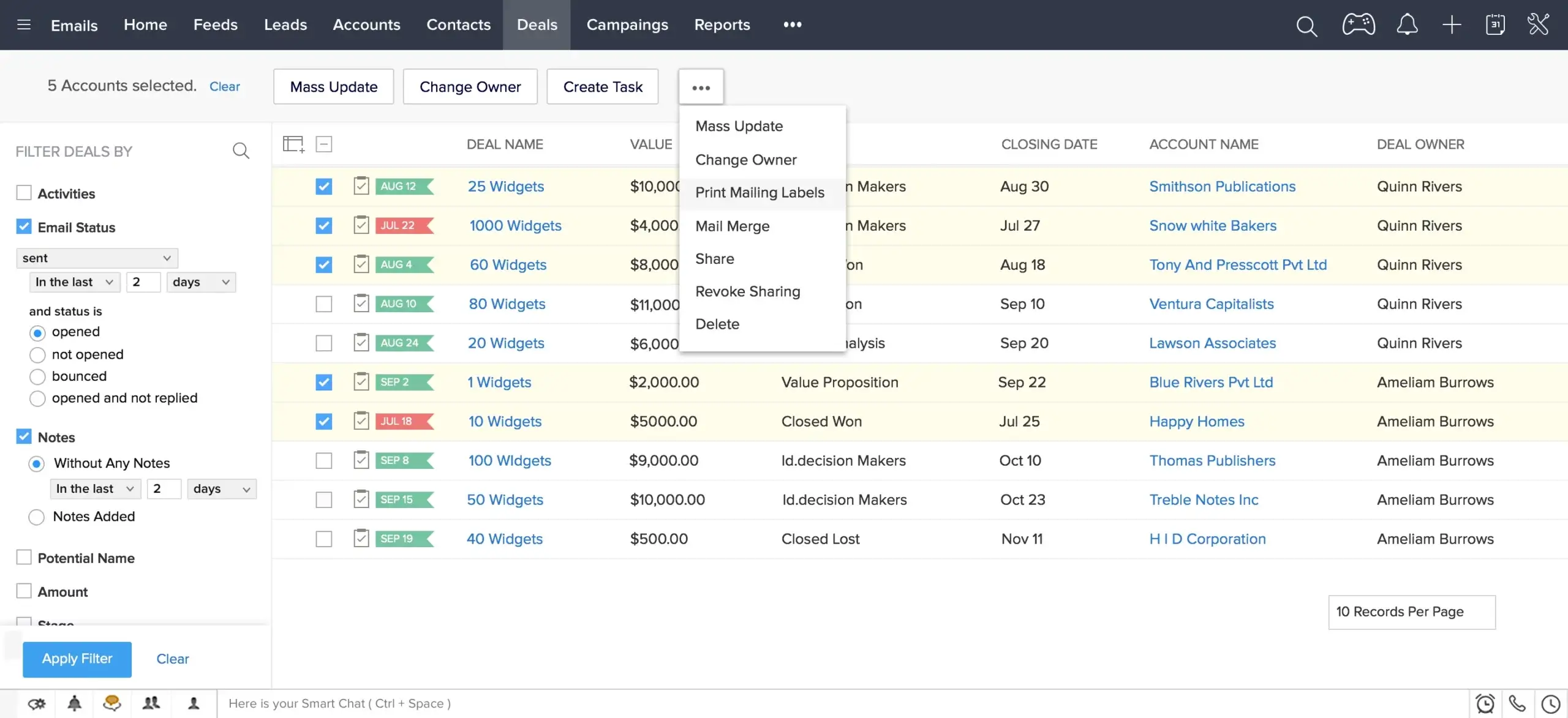 Freshsales
Freshsales is the nimble contender, offering a user-friendly interface and AI-driven insights, positioning it as a smart, analytical CRM tool. It's designed for businesses that seek to leverage data science to enhance their sales processes, offering predictive analytics and intuitive workflow automation, often at a more accessible price point than its more extensive counterparts.
In the quest for the optimal CRM, it is not about finding the best CRM in the market; it's about finding the CRM that's best for your business. Each of these alternatives presents its unique value proposition, feature set, and pricing structure, compelling companies to evaluate them against their specific requirements.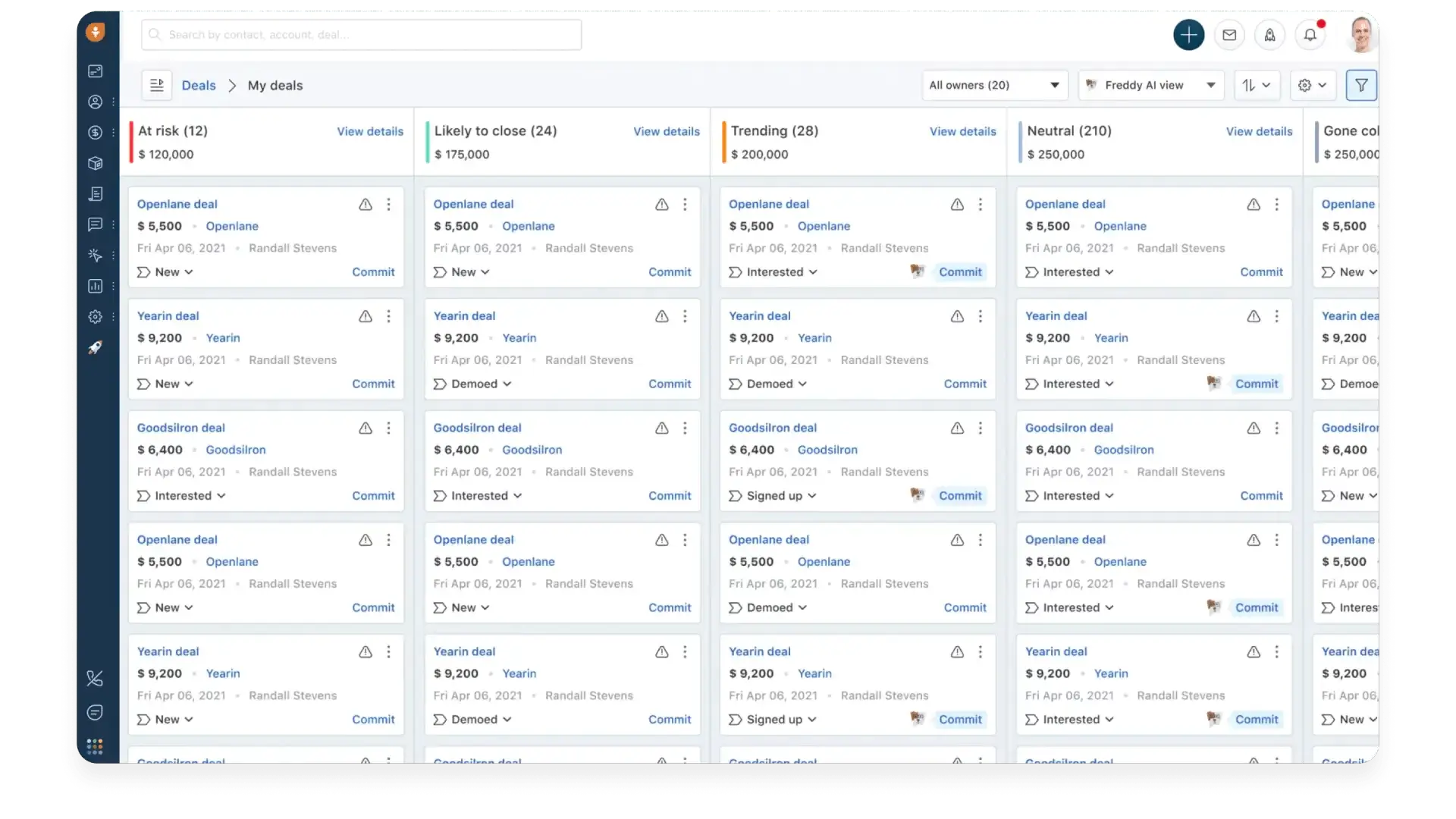 ---
Cut Your Pipedrive Costs with Teamgate
The maxim "time is money" holds especially true in sales, and tools like Teamgate shine by streamlining CRM processes without the hefty price tag often associated with big-named CRM platforms.
Teamgate's Cost-Effectiveness
Teamgate steps into the CRM arena as a cost-effective alternative, paring down the often superfluous complexities of more extensive systems to deliver a straightforward, yet powerful, sales management tool. It's tailored for those who seek the core functionalities of lead and pipeline management without the necessity for the extensive customizations and integrations offered by higher-end CRMs.
Complementing or Replacing Pipedrive Features
Teamgate's allure lies in its simplicity and focus on the essential aspects of CRM systems. For businesses utilizing Pipedrive, Teamgate can serve as either an easy to transition to replacement. Its simplicity should not be mistaken for a lack of sophistication; offering intelligent insights and reporting that rival the capabilities of its more expensive counterparts.
Financial Prudence
By opting for Teamgate, businesses could potentially reduce their CRM costs significantly. It offers a lean solution that aligns with the fiscal prudence required by SMEs and startups – starting with a free tier. While larger enterprises with intricate sales processes may find it limiting, for the majority, Teamgate offers a sweet spot between functionality and affordability.
Conclusion
To encapsulate, Pipedrive stands as a testament to the power of a CRM system designed with the end-user in mind. It is a tool forged in the crucible of sales necessity, honed by the feedback of those who live and breathe sales. The question of its worth is not just in the cost but in the value it brings to the sales process, the clarity it provides to the sales pipeline, and the efficiency it injects into every customer interaction.
Pipedrive's pricing is a reflection of its commitment to providing value at every tier, and its user reviews serve as a chorus of approval for its impact on sales productivity. While alternatives like Teamgate a very viable option, the choice ultimately rests on the unique needs and budget of your business.
To get started FREE with Teamgate today start a free trial or talk with our team of sales experts.
---
FAQs: Pipedrive CRM
How does Pipedrive's pricing compare with other CRM tools?
Answer: Pipedrive's pricing strategy is competitive, particularly appealing to small to medium-sized businesses looking for high-quality CRM functionality without the hefty price tag. It offers a tiered pricing model, which allows businesses to scale up as they grow. Compared to giants like Salesforce, Pipedrive is more cost-effective.
Can Pipedrive integrate with my current business systems?
Answer: Yes, Pipedrive offers a robust set of integration capabilities. It connects seamlessly with various email platforms, marketing tools, customer service software, and even offers an API for custom integrations. This flexibility ensures that Pipedrive can become a cohesive part of your existing tech stack, enhancing your overall sales process without the need for major overhauls.
What kind of support does Pipedrive offer?
Answer: Pipedrive provides support through multiple channels, including 24/7 live chat and email. Higher-tier plans have access to dedicated support, including phone support, whilst the lower plans will have to settle for email support. Additionally, Pipedrive has a knowledge base, webinars, and an active community forum for self-service support and learning.
How scalable is Pipedrive for my growing business?
Answer: Pipedrive is highly scalable, designed to grow with your business. Pipedrive's various subscription options allow you to scale up features and users as needed. The platform's customizability and integration capabilities also mean that it can adapt to increasingly complex sales processes.
Is there a free trial available for Pipedrive?
Answer: Yes, Pipedrive offers a 14-day free trial for any of its plans. This trial period allows you to test out the platform's features and determine if it's the right fit for your business before making any financial commitment.
What are the monthly and annual costs for Pipedrive?
Answer: Pipedrive's monthly costs start from a basic tier suitable for smaller teams and scale up to more advanced tiers for larger organizations with more complex needs. Paying annually grants a discount, effectively reducing the monthly cost when calculated across the year. Exact figures are regularly updated on Pipedrive's pricing page to reflect any changes or promotional offers.
Are there discounts or deals available for Pipedrive?
Answer: Pipedrive often runs promotions and offers discounts, especially for annual subscriptions, which can be significantly cheaper than monthly payments.
Does Pipedrive offer customization options in their pricing plans?
Answer: Yes, Pipedrive offers a high degree of customization within their pricing plans. While the core features are fixed based on the plan, there is flexibility to add users, integrate with other tools, and utilize various add-ons, which allows businesses to tailor the CRM to their specific needs.
How does the pricing for Pipedrive's add-ons work?
Answer: Pipedrive's add-ons are priced separately from the subscription plans and can be added on a per-user basis. This means you pay for the additional features you need, whether it's advanced automation, more detailed reporting, or enhanced support options. Pricing details for these add-ons are provided on Pipedrive's pricing page and can be a cost-effective way to extend the CRM's functionality without upgrading to a higher-tier plan.
Does Pipedrive integrate with Quickbooks?
Answer: Yes. With Pipedrive's Quickbooks integration you can create invoices from the deal detail view and seamlessly send them over to your Quickbooks account without the hassle of copying and pasting data between the two tools.
Does Pipedrive integrate with Outlook?
Answer: Not technically. Whilst Pipedrive offers an Outlook integration, it is a periodical sync and requires manual processes. In our opinion, it is not as comprehensive as a number of other CRM Outlook integrations.
Does Pipedrive integrate with Mailchimp?
Answer: Yes. Pipedrive's Mailchimp integration enables filtered and segmented contacts to be sent to Mailchimp and entered into email campaigns.